Ultimate Kilimanjaro®: Press & News, Page 2
If your story is reported, please let us know! We love seeing our clients in the media!
---
ULTIMATE KILIMANJARO® CLIENT FEATURED IN THE COURIER MAIL (AUSTRALIA)
August 23, 2014
Moorooka mum Regan Trask is preparing to climb Mount Kilimanjaro for multiple sclerosis
by Felicity Caldwell
A Moorooka mum living with multiple sclerosis (MS) is preparing to climb the highest mountain in Africa to raise money for research.
Regan Trask, who was ­diagnosed with the condition in 2005, will climb Mount Kilimanjaro in Tanzania to raise money for MS Research Australia.She said she hoped to help find a cure for MS by raising money and she also wanted to inspire people. "I want to try to inspire people to get off their backside and give it a go," she said. "Maybe I'll inspire some people to get out there and move and get some fresh air and enjoy what they've got."
The 34-year-old's attempt, along with her father, uncle and aunt, is part of the "Kiss Goodbye to MS" campaign.Ms Trask said she came up with the idea for the trek while watching television."I was watching a thing on Joe Hockey and he had climbed Kilimanjaro and I thought, my God, look at the size of him, if he can do that, I can do that," she said.
Ms Trask said she also wanted to be a role model for her three-year-old son. "I need him to see that no matter what happens in the future for me, he can see that I still gave it a go," she said. "The proof will be there that when he puts his mind to it, he'll be able to do ­anything."
The group will start the trek on September 2. Ms Trask set a goal to raise $5000 but has already reached $5796. To donate, visit kissgoodbyetoms.org  and search "Regan Trask".
[Regan succesfully summited with Ultimate Kilimanjaro® on September 9, 2014.]
---
ULTIMATE KILIMANJARO® CITED IN JOURNAL OF TOURISM AND CULTURAL CHANGE
July 17, 2014
Cultural tourism and poverty alleviation in rural Kilimanjaro, Tanzania
by Wineaster Anderson
Abstract
The objective of this article is to investigate the impact of cultural tourism on welfare as perceived by communities in rural Kilimanjaro in Tanzania.
The survey, which involved 85 randomly selected households in five villages during 2013, was qualitatively analysed through quasi-statistics, domain analysis and narratology.
The research findings confirmed that cultural tourism contributes significantly to improving the livelihoods of people. Its impact differed from one village to another but what they all had in common was their ability to get a reliable source of income, unlike in the past when they solely depended on selling their livestock or seasonal crops. After the introduction of cultural tourism in the area 10 years ago, local people noticed significant social progress, ranging from a rise in household income to gaining access to education and health facilities. However, a good number of residents have limited skills and professional knowledge coupled with a negative attitude to the industry.
Therefore, this study underlines the importance of instituting training programmes at community level that will ultimately provide opportunities for local people to be employed in various tourist businesses.
---
ULTIMATE KILIMANJARO® CLIENTS FEATURED IN HERALD SUN (AUSTRALIA)
July 16, 2014
Hastings team of daughter losing sight and mum losing hearing determnined to climb Mt. Kilimanjaro for good cause
by Christian Tatman
When she treks up Mt ­Kilimanjaro, Hailey Paynter will focus on the ground.
It's not that she can't ­appreciate the breathtaking scenery — it's simply that the 27-year-old will need her trekking companion and mother, Jacqueline, to paint a picture with words. Jacqueline will discuss the vista, but more importantly the terrain and position of branches — all of which is vital to help Hailey, who has a rare degenerative eye condition that is increasingly robbing the young woman of her sight.
The Hastings pair have previously trekked together and Jacqueline knows her daughter's eyesight is deteriorating. "I can't walk with her (Hailey) the way I used to. She's not seeing the things she used to," Jacqueline said.
But for the mother-daughter team from Hastings, it's a two-way street — Jacqueline suffers from a genetic condition that means she has limited hearing. Her mother was also deaf.
Jacqueline, 54, will need Hailey to be the "ears" of the expedition.
"She hears and I see — it's a two-way situation," Jacqueline said. "I rely on Hailey for ­hearing. If a person has an accent or covers their mouth or looks the other way, ­Hailey relates what they're saying."
The self-funded trek is to raise awareness of and money for the not-for-profit Able Australia, which helps people with multiple ­disabilities, including deafblindness.
Hailey started losing her eyesight when she was 19 and spoke of her life  having been "turned ­completely upside down".
A turning point occurred three years ago when she ­became disorientated during a swim, started going around in circles and had to be assisted by a lifeguard. "I didn't know where I was. It was quite terrifying," she said.
Jacqueline is aware of the enormous responsibility of making sure her daughter is safe and not too close to the edge during their ascent and descent. But both are committed to the hilt and have been ­preparing by cycling, working out at the gym and trekking.
"I am excited. There's that element of, 'Are we going to make it?'" Jacqueline said. "It's that element of doubt. But I am a very determined person and Hailey is too."
Hailey is keen to raise ­support for people who are deaf-blind. "It's the cause behind it," she said of her motivation. She is also keen to get out of her comfort zone. "If you choose something you do everyday, it won't push you. Somebody is not going to sponsor you."
Both said they hoped the trek would inspire ­people with disabilities. "For people who do have disabilities, you can get there and do things. It's a matter of finding a way how," Jacqueline said.
She has also reflected on her loss of hearing and what it would be like for someone who lost their sight as well. "What about someone who has lost two senses and the isolation they ­experience because you don't communicate in the same way?" she said.
Hailey is determined to complete the eight-day trek in late September, during which the pair will be accompanied by a guide. Having battled depression, she has drawn strength from her mother's support and now looks forward to standing atop Mt Kilimanjaro holding Jacqueline's hand. Hailey has no doubt the pair will make it. "If you are going to depend on anybody, I would depend on mum over anyone else," she said. Added Jacqueline: "And vice-versa."
A fundraising cocktail party and silent auction will be held at Melbourne ­Aquarium on August 30 as part of plans to raise $30,000. To make a donation, visit Hailey's Kilimanjaro climb at Able Australia.
[Jacqueline and Hailey successfully summited with Ultimate Kilimanjaro® on September 28, 2014.]
---
ULTIMATE KILIMANJARO® CITED ON YAHOO! TRAVEL
June 6, 2014
Deadliest Sport Ever? Why People Risk Their Lives Mountain Climbing
by Bill Fink
It's been the deadliest mountain climbing season in history, and it's not over. With the tragedies on Mt. Rainier in Washington and  Nepal, one question remains: Why do they do it? Why do people regularly risk their lives to summit a mountain peak or scale sheer cliffs? 
"Because it's there," George Mallory famously replied in 1923 when asked why he was trying to climb Mount Everest. The quote caught the public's imagination, as it expressed both the childlike whimsy of doing something just for the fun of it, and the adult heroic ideal of dedicating oneself to meet any challenge, no matter how tall.
Although Mallory perished the next year on Everest, (and his body not found for 75 years), his legacy of big mountain climbing remains. Last year, over 650 people summited Mt. Everest; each of them coming home probably had to answer the same question: "Why'd you do it?"
They likely answered with one of these three prime motivators of mountain climbers:
1. Conquering the Challenge: "Because it's there"
Alpine guide Rich Meyer agrees with the "conquering the challenge" motivation. He told Yahoo Travel, "Climbing offers a series of mental and physical challenges played out in some of the most beautiful places on our planet. Overcoming those challenges, feeling a sense of accomplishment, and learning a little more about yourself is tremendously rewarding."
But unless you're the rare extreme climber seeking out a first ascent, the challenge isn't to conquer the mountain — it's been done before, by hundreds, thousands, maybe tens of thousands of people. Climbers on Mt. Kilimanjaro, for example, grew from barely a thousand per year in the 1960s to 28,000 in 2003 and 52,000 in 2012. You won't get any fame for being the 52,001st person atop the summit. So what's the point of this "conquest?"
Mallory asked himself a similar question about one of his expeditions in the Alps. "Have we vanquished an enemy?" He answered, satisfied: "None but ourselves."
And that remains one of the primary motivations for mountain climbers — conquering your own internal challenges, whether they be overcoming fears, pushing your limits, or trying to create a personal best in terms of physical and mental accomplishment. The mountain is really just an innocent bystander during this process. 
2. Learning Life Lessons: "Because it's good for me"
Serious climbs require diligent training, planning, teamwork, and a step-by-step discipline that can be usefully applied to other parts of personal and professional life. Jenny Fellows, director of NASTC (which guides rock climbs in the Sierra Nevada mountains), told Yahoo Travel she sees a lot of families happy with the climbing clinics — and not just because they got from Point A to Point B on a large rock. "The group dynamics of climbing is a great learning experience — you're really forced to work together to reach a common goal. I've seen some really nice father-son bonding out here."
The criticism of many of the high-priced expeditions up Mt. Everest is that people are buying their way out of the key learning experiences and personal development inherent in mountain climbing. Having a set of expert guides and hard-working Sherpas basically drag you to the top of a summit offers neither a proper sense of achievement, nor any life lessons for dedication, planning, or teamwork. Essentially you've just become a really expensive piece of baggage.
Those climbers who tackle the mountains not for glory or bragging rights, but for personal development and sheer enjoyment of the moment are those who tend to find the trips most rewarding.
3. Managing Risks: "Because I can"
The availability of high-tech safety equipment, well-trained guides, and easier global access to climbing sites has made mountaineering more popular than ever. The credo may be changing from "Because it's There," to "Because I Can."
Climbing has come a long way since Alpinists were hammering nails in their boots to get a better grip on icy slopes. The evolution of equipment into lightweight, super-strong, technically rated tools has revolutionized the sport of rock and mountain climbing in recent years, making ever-more extreme ascents possible, and possibly even enabling too many novices to get into situations beyond their capabilities.
Climbers are better-informed than ever about routes to the summit, weather systems, rescue techniques and supply planning. This has made mountain climbing more available to the masses, giving people the confidence to attempt climbs that were previously only available to the climbing elite. Because of this ability to manage risk, the vast majority of climbs are done safely. Despite the recent tragedy, Mt. Rainier averaged only 1.4 fatalities per 10,000 climbers over the past 20 years (according to National Park Service data).  But this is no consolation for those who perish, or the families they leave behind. 
For regardless of training, equipment, and planning, there will always be an inherent danger in mountain climbing. Despite the best forecasting data, weather remains as a potentially lethal wildcard to any expedition. "You can mitigate risks, but you can never remove them" says NASTC's Fellows. "But as long as those mountain routes exist, people are going to keep going up there."
---
ULTIMATE KILIMANJARO® FEATURED ON CNN
May 19, 2014
11 Amazing Ways to Experience Africa from the Air
by Joe Yogerst
Africa from the air is a breathtaking sight -- vast herds, sprawling wetlands, snow-capped peaks and rising cities. Thanks to creative safari outfitters, aerial views of the continent are a lot more accessible than they once were. The 11 options below showcase the best aerial tours of Africa.
1. Huey helicopter flights at Victoria Falls (Zambia)
Based in Livingstone on the Zambian side of Victoria Falls (the falls form a border between Zambia and Zimbabwe), United Air Charters introduced 20-minute flights in a "Huey" helicopter -- the widely used military helicopter -- in 2013 as a radical way to experience Africa's largest waterfall.
With fully open side doors, the 13-passenger Huey zigzags through the 125-meter-high (410 foot) rock walls of Batoka Gorge, skimming close to rapids that make this stretch of the Zambezi one of the continent's best for whitewater rafting. Upon reaching the violent clash of water and rock called Oblivion, the chopper rapidly rises up and over Mosi-oa-Tunya ("The Smoke that Thunders") at the falls.
United Air Charters Huey tours over the falls with an open door are $175 per person for 15 minutes and $330 per person for 20 minutes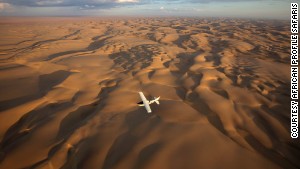 2. Private flying safari (Namibia, Botswana)
Little trumps the glamor of a private flying safari in southern Africa, which takes visitors over the Kalahari Desert and Okavango Delta and delivers them to some of the most exclusive and expensive safari camps on the continent.
As one of the region's leading flying safari outfitters, African Profile Safaris lists corporate tycoons, politicians and movie stars among its clientele, and organizes flying safaris anywhere in Africa, from week-long trips around Namibia, Botswana and South Africa to month-long Cape-to-Cairo journeys.
African Profile Safaris offers 13-day fly-in safaris in Namibia, Botswana, Zambia from 60,900 rand ($5,770) per person
3. Table Mountain Cableway (South Africa)
Table Mountain Cableway opened in 1929 as a vertigo-inducing way to rise from Cape Town to the 1,084-meter (3,558-foot) summit of the giant, flat-topped peak. In the late 1990s, the vintage cable cars were replaced by new pods that can carry 65 passengers and rotate 360 degrees.
From the top of the mountain, visitors get breathtaking panoramas of central Cape Town, the beach towns along the western edge of the peninsula, the Cape of Good Hope stretching off to the south and the old prison on Robben Island, where Nelson Mandela spent 18 years.
Table Mountain Cableway adult return journeys are 215 rand ($20) per person
4. Nile High Bungee (Uganda)
It took European explorers hundreds of years to come into contact with the source of the Nile. Now it can be done in a matter of seconds at Nile High Bungee.
Located in the town of Jinja near the spot where the Lake Victoria turns into the world's longest river, the jump is 44 meters (144 feet) from platform to water. Tandem and night jumps are offered. Leapers can also choose a full dunk -- a brief submergence in the Nile.
Nile High Bungee jumps start at $115 per person
5. Skydiving (Kenya)
An hour's drive south of Mombasa, Skydive Diani offers a year-round slate of tandem skydives, full training courses and solo jumps for qualified skydivers. Most jumps are over a permanent drop zone at Diani Beach, but the company runs tandem operations on the coasts of Malindi and Kilifi and in the central highlands outside Nairobi.
Each March and November, Skydive Diani and the Nairobi-based Kenya Skydivers Association organize Beach Boogies, a week-long skydiving festival over the white sands and turquoise waters of Diani.
Skydive Diani offers skydives from $350 per person
6. Climbing the West Face at Mulanje (Malawi)
Rising 1,700 meters (5,500 feet), the hulking West Face of Chambe peak on the Mulanje Massif is one of Africa's greatest rock-climbing challenges. The wall features two distinct sections -- a 610-meter (2,000-feet) Lower Face and a 1,067-meter (3,500-feet) Upper Face.
Those who want to experience the view from the top without the death-defying climb can trek the Skyline Trail, a three-hour hike between Likhubula guest house and Chambe mountain hut.
The Mountain Club of Malawi (MCM) helps plan climbs. A seven-day trip of trekking and climbing booked through MCM costs $162
7. Trekking Mount Kilimanjaro (Tanzania)
The six-day trek up and down Africa's highest mountain (5,895 meters/19,341 feet) is one of the continent's iconic adventures.
The main routes to the top require no technical climbing experience, but trekkers should be in fairly good shape for an uphill walk that takes three and a half days.
Above 11,000 feet, head aches, shortness of breath and other symptoms of altitude sickness are common, and pulmonary edema is a real danger. Tanzania's National Parks Authority requires that all climbers be accompanied by a licensed guide.
Ultimate Kilimanjaro® offers seven ways to reach the summit. Hikes start at $2,200 per person
8. Busanga Plains hot air balloon trip  (Zambia)
"There's nothing like it," says balloon pilot Erik Hesemans of the low-level gliding he does over Zambia's wildlife-rich Busanga Plains  with Namib Sky Balloon Safaris. "Sometimes we're only three meters above the ground -- close enough to look straight into the face of a lion or hippo as you're flying past."
Hesemans pioneered the maneuver over the red hot dunes of the Namib Desert and brought "skimming" to Zambia's savannah country in 2012. Hesemans brings his balloons to Busanga during the dry season between June and October, when animals are drawn to waterholes and are thus easier to spot from the air.
Busanga Bush Camp starts at $799 per person per night; hot air balloon safari is complimentary (and only) for guests who stay minimum three nights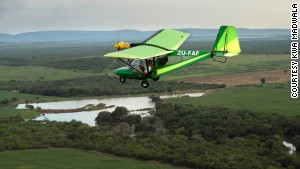 9. Microlight flights over Kruger National Park (South Africa)
Microlights -- lightweight, fixed-wing aircraft -- have been a fixture at South Africa's Kruger National Park for more than a decade, offering bird's-eye views of elephant, rhino, buffalo and other African wildlife.
Kwa Madwala Private Game Reserve on Kruger's south side is one of the few lodges with its own microlight -- a sturdy little Bantam that takes off from a grass runway.
A six-cylinder engine powers the small aircraft on 15-minute, half-hour and hour-long flights over Kruger, including a glide down the Crocodile River.
Kwa Madwala's Manyatta Rock Camp starts at 1,600 rand ($150) per person per night with microlight flights from 650 rand ($61) per person
10. Cairo Tower (Egypt)
Inspired by the lotus columns of the Temple of Luxor and other ancient monuments, Cairo Tower rises 187 meters (613 feet) above Egypt's brooding capital city and remains the third tallest building on the continent more than 50 years after it was first built.
From the open-air observation deck at the top, visitors gaze down on central Cairo, up the Nile Valley to the Great Pyramid of Giza and across to the great citadel that dominates eastern Cairo.
Cairo Tower observation deck access is 70 Egyptian pounds ($10) per person
11. Tsitsikamma zipline (South Africa)
Africa's best zipline soars through the extraordinary wilderness of Tsitsikamma, featuring an hour-long "flight" through the Kruis River Gorge over three waterfalls. The zigzag route features eight different "slides" or cables, one of them the length of two soccer fields.
Thanks to a patented braking system, fliers can control their speed and come to a complete stop midway along the slides to take in indigenous flora and fauna.
Tsitsikamma zipline rates are 350 rand ($33) per person
---
ULTIMATE KILIMANJARO® ANNOUNCES NEW UPGRADES TO GUIDE SERVICES
May 12, 2014
Ultimate Kilimanjaro® Strengthens its Climbing Operations to Enhance Climber Experience
Mount Kilimanjaro's leading tour operator upgrades its equipment, adds safety precautions and improves its food menu to provide the best service to adventure seekers.
Ultimate Kilimanjaro®, the #1 guide service on Kilimanjaro, has recently made significant improvements to its climbing operations. For nearly a decade, Ultimate Kilimanjaro® has guided thousands of clients on Mount Kilimanjaro, Africas highest peak. However, their success is not measured by how many people they take to the summit, but how great of an experience it is for all climbers.
"We strive for continuous improvement," said Adam Collins, Expedition Coordinator for Ultimate Kilimanjaro®. "We sat down and looked at everything from top to bottom with a critical eye, and what we've come up with is truly the best experience for our clients. I'm really excited, and our clients will be too."
Among the changes implemented are upgrades in camping equipment, additional safety measures, and better food.
Many people who climb Kilimanjaro do not have any previous backpacking experience, which means clients are not accustomed to sleeping outdoors. Ultimate Kilimanjaro® eases the transition by providing thick foam sleeping pads and state of the art Mountain Hardwear brand tents on all trips.
"These are serious tents, built for the toughest alpine conditions. They are perfectly suited for the weather on Kilimanjaro," said Collins.
Besides enduring extreme cold, anyone climbing Kilimanjaro may develop symptoms of altitude sickness due to its staggering height - 19,345 feet above sea level. Ultimate Kilimanjaro® guides constantly monitor climbers throughout their journey. Twice daily, health checks are performed with the assistance of a pulse oximeter, a handheld device used to measure oxygen saturation in blood. Additionally, climbers are evaluated based on the Lake Louise Scoring System for detection of altitude sickness. Oxygen is used to treat climbers with moderate or severe altitude sickness.
"Bottled oxygen is included on all climbs," said Collins.
The food served on Kilimanjaro is made with fresh ingredients, carried by porters and prepared by mountain chefs. The menu consists of a variety of entrees and tastes intended to keep energy levels high after a hard days hike. Food is resupplied to climbers on longer itineraries so climbers have ample fresh food.
"One of the symptoms of altitude sickness is a loss of appetite," noted Collins. "That's why its important to provide tasty dishes, so that people will eat even if they don't feel hungry."
The improvements didn't stop with just the clients. Ultimate Kilimanjaro® guides are dressed in Mountain Hardwear waterproof hardshells, insulated down jackets and moisture wicking tee shirts. And as one of the strongest supporters of the Kilimanjaro Porters Assistance Project (KPAP), Ultimate Kilimanjaro® guides and porters receive far more than the standard compensation than those working for other companies.
"Climbing Kilimanjaro is a team effort," Collins stated. "Without guides and porters, there are no clients. There are no operators. It's in our best interest to see that everyone is treated fairly."
Ultimate Kilimanjaro® offers private and group treks on all Kilimanjaro routes year round, including the new Northern Circuit route. For seasoned backpackers with high altitude experience, there is also an option to sleep next to one of Kilimanjaros last remaining glaciers and visit Kilimanjaros volcanic center, the Ash Pit.
"Our customers are going to be thrilled. The best Kilimanjaro operator just got better," said Collins.
---
ULTIMATE KILIMANJARO® FEATURED IN HUFFINGTON POST
May 9, 2014
Climbing Kilimanjaro: 10 Things I Would Do Differently
by Tim Ward
Having climbed Kilimanjaro a few summers ago and written a book about it, I'm often asked by people on their way to climb Africa's highest peak, what I would have done differently if I were to do it again. While thinking about my answers, I consulted Shawn Richards, Expedition Coordinator of the outfitter I climbed with, Ultimate Kilimanjaro® (www.ultimatekilimanjaro.com).

1. Read up on the volcano in advance of my trip. Kilimanjaro has no information boards along the way. It's a genuine wilderness. Our guides were our only source of information during the trek. While they knew a lot about the wildlife and climbing, they didn't know much about the geology or history of the world's tallest free-standing mountain. So my advice would be read up in advance (my book, Zombies on Kilimanjaro is a great place to start).

2. Weighed my bag before getting on the plane. I knew that our outfitter had a weight limit of 15 kg (33 pounds) per climber. It's a rule strictly enforced. They put our bags on a scale when we arrived, and both my son and my bags were more than 5 kilos over! As a result we spent the night before our trip emptying bags, doing triage and repacking. It put a lot of unnecessary stress on our departure day. Shawn told me the weight rule was in force to protect the porters from being forced to carry too much: "Though climbers tend to view the weight limit as an inconvenience, the park sets limits to protect the porters from abuse. Using fewer porters and overloading them is one of the many ways that crooked Kilimanjaro companies cut costs."
3. Packed fewer clothes. I wish I had realized I could wash socks, tee-shirts and underwear along the way. There were a few times during the trip when it was possible to get an extra basin of water for washing. In the desert-like atmosphere clothes dry surprisingly fast. On the other hand, all my warmer clothes were vital to have on the final ascent to the crater. We both wore every layer we possessed.
4. Brought powerful binoculars. I took only a pair of mini binoculars with me, because I thought my large ones were too heavy. I ended up regretting not having closer views of the ice-ringed summit and the amazing stars at night.

5. Planned how to stay clean where there's no running water. All we got to wash in was a tiny basin of warm water in the morning and at night. By day 4 of our 7 day trek, we looked and smelled pretty awful. All I had with me was a package of large wet-wipes, which helped wipe off the dust and sweat.
6. Brought more chocolate and power bars. The food in camp is plentiful, but at higher altitudes you need all the calories you can get while climbing. I thought I brought enough bars for Josh and I - two each a day - but I did not factor in that we would be walking with our guides, and it was only decent to share. I should have brought twice as much.

7. Stayed an extra day on the mountain. My son and I chose one of the longer trails, the Lemosho Route, which can be done in 6-8 days. We opted for six days up and one day down, and I would have definitely added on another day, so that we could have better adapted to the altitude. Josh suffered from altitude induced migraine headaches on our ascent. Taking Diamox, which reduces altitude sickness, helped him, but it would have been much easier had we acclimatized more slowly. The sad fact is that most people try to climb Kilimanjaro in 5 or even 4 days to save money, and fewer than half make it to the top as a result.
8. Climbed down slower. After the exhilaration of the summit, we climbed down the steep, scree slope of the volcano then walked several hours down to our final campsite. My feet were sore with blisters, and both of us were near to exhaustion. Shawn said a slow descent is not best: "It's normal for people to develop symptoms of altitude sickness during the summit ascent. We try to get people down quickly because it is far easier for the body to recover at lower altitudes. The higher concentration of oxygen helps people feel better very quickly."

9. Not risked our porters getting scammed out of their tips. At the end of the trek I turned my tip money over in a lump sum to our chief guide for distribution to the porters. Later I learned some guides keep all the tips for themselves! Shawn told me there's an easier way for trekkers to make sure their porters don't get abused. The best Kilimanjaro operators comply with the guidelines set by the Kilimanjaro Porters Assistance Project (KPAP), an independent organization that monitors porter treatment. He told me "by operating under KPAP's recommended procedures, partner operators not only abide by their fair treatment standards for tipping, but also for wages, food, shelter, clothing, and porter loads." Go to www.kiliporters.org to find a list of companies that have signed the KPAP pledge.

10. Planned more time in Tanzania for wildlife safaris. After the climb, I regretted not taking an extra week to go to the Serengeti. We only booked a short trip to the Ngorongoro Crater, a mini-Serengeti just a few hours drive away from Kilimanjaro, where for two days we watched lions, elephants, wildebeests, hyenas, hippos, zebra and rhinos. It was not enough. "Tanzania is a mecca for wildlife safaris," Shawn enthuses. "We recommend a five day safari to properly enjoy the main parks. Afterwards, a few days on the beaches of Zanzibar, a beautiful island off Tanzania's coast, is the perfect way to end your trip."
Tim Ward is the author of Zombies on Kilimanjaro: a Father-Son Journey Above the Clouds, a literary narrative of climbing Kilimanjaro.
Book Description: A father and son climb Mount Kilimanjaro. On the journey to the roof of Africa they traverse the treacherous terrain of fatherhood, divorce, dark secrets and old grudges, and forge an authentic adult relationship. The high-altitude trek takes them through some of the weirdest landscapes on the planet, and the final all-night climb to the frozen summit tests their endurance. On the way to the top father and son explore how our stories about ourselves can imprison us in the past, and the importance of letting go. The mountain too has a story to tell, a story about Climate Change and the future of humankind - a future etched all too clearly on Kilimanjaro's retreating glaciers.
ORDER YOUR COPY TODAY!
---
ULTIMATE KILIMANJARO® CITED IN INTERNATIONAL BUSINESS TIMES
April 30, 2014
As Everest Sherpas Boycott Climbing Season, the Porters on Kilimanjaro Porters Work for Less
by Kathleen Caulderwood
After a deadly avalanche killed 16 Sherpas on Mount Everest, Nepalese mountain porters have called for a boycott of the 2014 climbing season to honor their colleagues and ask for better wages and working conditions. It's no small action considering that they will be losing the season's wages, which are typically about $4,000 -- a very large sum in Nepal.
Everest is Earth's highest mountain, but it's hardly the only massive peak that provides local guides with work. Another is the highest mountain in Africa, Tanzania's Kilimanjaro, which ranks second in National Geographic's "Top Ten Climbs" list. Gracing the bucket lists and vacation plans of tourists from around the world, the mountain attracts more than 40,000 visitors each year. But while it's far easier than Everest, one does not simply climb Kilimanjaro alone.
For every climb, which can take at least five days, three local workers also come along to provide guidance and to carry food and equipment. The industry employs thousands of guides, cooks and porters. It also generates roughly $50 million in revenue every year and pays more than double the average local wage -- an aspect that can be a double-edged sword.
Kilimanjaro's "network of tour operators, porters and guides makes it one of the best-organized mountain hikes in Africa," according to a 2013 World Bank report, which estimates that the $50 million in revenue generated every year supports 400 guides, 500 cooks and 10,000 porters and contributes roughly 13 percent of the country's overall gross domestic product.
Analysts suggest that $13 million of the revenue is used to help improve the lives of poor people living near the mountain's surroundings, which have the highest school enrollment rate and adult literacy rate in Tanzania.
But "working conditions for porters and others can be arduous and dangerous," the report reads, adding that 20 guides and porters die every year on the mountain from altitude sickness, hypothermia and pneumonia.
Tanzania is a low-income country but one that has seen a great increase in tourism in recent years. Between 2010 and 2012, international arrivals to Tanzania increased 38 percent to reach 1,043,000, according to the U.N. World Tourism Organization.
Three types of staff work on the mountain. A guide is the most well-trained and well-paid, typically making $10 per day, plus tips of about 50 percent, for an annual income of roughly $1,800, according to the World Bank statistics. On average, guides climb the mountain about 17 times per year. Porters and cooks, who tend to earn about half of what guides make, take 14 trips, for which they're "on duty" 24 hours a day. 
"These wages are attractive," according to the report, which cites the average payment for farmers hits roughly $2 per day.
World Bank analysts estimate that the average tour package to climb Kilimanjaro starts at about $1,205, but it often begins much higher with non-budget companies.
Ultimate Kilimanjaro®, an American tour company, charges between $2,550 to $2,950 per person for its tours, while Aardvark Safaris, a company with offices in the U.K., U.S. and Hong Kong, charges  up to $6,100 for a private trek.
To climb Kilimanjaro, About.com recommends a $5,000 budget, which includes $3,000 for the tour company and $500 for extras like food and transportation.
Roughly 47 percent of tour costs go to pay park fees, which can start at $70 per person per day, according to regulations published by Tanzania National Parks, while 18 percent goes to worker wages, according to the World Bank report.
The Tanzania National Parks website states that guides should be paid $20 per day, while cooks earn $15 and porters get $10, according to guidelines set in June 2008. But some argue that this has yet to be enforced.
"The wages set in 2008 have yet to be enforced among all companies climbing Kilimanjaro," said Karen Valenti, the program manager with the Kilimanjaro Porters Assistance Project (KPAP), a Tanzanian non-government organization that's an initiative of the International Mountain Explorers Connection, a registered U.S. nonprofit dedicated to "responsible and sustainable connections between travelers and the people of developing mountain regions of the world," according to its website.
The organization is focused on improving the working conditions of porters at Kilimanjaro through free clothing lending programs, education programs and awareness campaigns, and gathering information from porters about their working conditions and wages.
"The minimum wage has been declared to be 10 dollars a day," said Valenti, who has been working with the organization since 2004, and has lived in Tanzania for the past 10 years. "We're now in April 2014 and this rate has still not been enforced."
The problem isn't simple. According to the IMF, the average GDP per capita in Tanzania was $703 in 2013, about half the average rate for most porters. In fact, many people travel from around the country just to find work on the mountain. A job as a porter is very appealing, as it requires little or no training but just the ability to carry the mandated 55 pounds.
Many of these people are more willing to work for unregulated low wages than nothing. Valenti recalled meeting with a 14-year-old who wanted to work as a porter to help fund his education, even though the minimum age requirement by regulation is 18.
KPAP has created the Partner for Responsible Travel Program, which highlights climbing companies that meet the proper treatment guidelines.
"We have seen an improvement in the working conditions of many porters as climbing companies improve their procedures to ensure proper working conditions and meet the public's desire for fair treatment practices on Kilimanjaro," Valenti said. "On a positive note that has helped."
"The working conditions have improved over the years because of a non-profit organization helping to improve the public's awareness," she said. "On a positive note that has helped."
According to Ake Lindstrom, founder of Summits Africa, a tour company that operates treks on Kilimanjaro, Mount Kenya and Mount Meru, transparency and monitoring are part of the solution. 
Lindstrom wrote in an email that Summits Africa's porters earn about $200 a month for two trips up Kilimanjaro, to make an average income of about $1,600 annually, which is supplemented by other work such as farming or trading depending on the season.
"How can wannabe Kilimanjaro climbers positively impact the lives of porters? Ask questions and find info," Lindstrom said, explaining that tourists should do their research on a company, ask for references and, if possible, pay porters directly. 
[NOTE: Ultimate Kilimanjaro® guides and porters are paid more than the standard compensation on the mountain, and they receive tips far greater than those cited in this article. Ultimate Kilimanjaro® guides and porters are fully employed, climbing 20-25 times per year. Ultimate Kilimanjaro® is a partner company of the Kilimanjaro Porters Assistance Project (KPAP) and meets or exceeds all proper treatment guidelines.
---
ULTIMATE KILIMANJARO® CLIENT FEATURED ON WHAS11 (LOUISVILLE, KENTUCKY)
February 10, 2014
Lou. Dentist Climbs Mt. Kilimanjaro in Honor of His Wife, Diabetes
by Chelsea Rabideau
LOUISVILLE, Ky. (WHAS11) – After long days of climbing, Louisville dentist Dr. David Shorten reached the highest peak in Africa, Mount Kilimanjaro. 

"We spent a few minutes up there, and then took pictures, celebrated a little bit. And then went back down," Shorten said. An exhausting climb which Shorten fought for air while battling muscle aches. "It was all I could do just to fall into my tent and just lay there for awhile," he said.

Dr. Shorten carried a special message on his back to the top of the mountain.
"With diabetes they have hurdles; diabetics have hurdles that they have to overcome every day. And that's for a lifetime. This was only 8 days for me. At times, I thought I couldn't do it and at times, I think diabetics think they can't do it," Shorten said.

An avid hiker and climber for many years, Dr. Shorten wanted his latest and greatest climb to stand for something. His wife, Dr. Carol Kulp-Shorten was diagnosed with the disease 11 years ago. "I don't know too many men that would climb a mountain for a woman and I feel very blessed and fortunate that I happened to be married to one of those men," she said.

The Shortens hoped to raise awareness and money for diabetes so they set goals and far exceeded them. "I am just blown away by the generosity of, you know, neighbors, family, friends, co-workers in my office, patients have been sending in money. People I don't even know are sending money. He went into this thinking, oh I'll raise 4,000 dollars and now he's up to 15,000 dollars," Carol said.

It took 8 days to complete the climb which Dr. Shorten did in late January.
Mount Kilimanjaro stands more than 19,000-feet above sea level.
---
U.S. CONGRESSWOMAN KYRSTEN SINEMA SUMMITS WITH ULTIMATE KILIMANJARO®
Congratulations to Kyrsten Sinema for successfully climbing Mount Kilimanjaro. Congresswoman Sinema climbed with Ultimate Kilimanjaro® on the 8 day Lemosho route and summited on Christmas morning. Below is her tweet:
The U.S. Representative from Arizona is a marathon runner and completed an Ironman Triathlon earlier in the year, which included a 2.4 mile swim, a 112-mile cycling ride and a 26.2 mile run. Now she adds climbing Mount Kilimanjaro to her list of achievements.
---
ULTIMATE KILIMANJARO® CLIENT FEATURED IN ALBUQUERQUE JOURNAL
October 24, 2013
Trek of a Lifetime
by Nancy Tipton
For two sisters, the journey to Uhuru Peak had little to do with hiking up a mountain.
When Albuquerque resident MaryAnn Castoria Gerst, 68, announced at a family birthday dinner that she and her 51-year-old sister, Caroline Hayes, were going to climb Mt. Kilimanjaro, she didn't realize getting ready for the trek was going to take her on a journey that had little to do with hiking up a mountain.
The trip, which she completed in August, was planned in late 2012. Shortly after that, Gerst found out that her husband, Tom, had terminal cancer. "At that point I had no intention of doing the trip," Gerst said in an interview shortly after returning from Africa. "But he told me before he died that he wanted me to go."
So for the months following his death, she hiked. She hiked Sandia Mountains near Albuquerque and the higher peaks in the mountains of northern New Mexico, and then she traveled to Colorado to hike Pike's Peak.
"I literally walked out of my grief," she said.
She said she truly was on a mission as she prepared for the trek – she got vaccinations, bought travel insurance, packed and repacked her bags in order to not go over the allowed weight, and even tested the altitude medication her doctor prescribed by using it while hiking up mountains with 14,000-foot peaks.
On Aug. 1, she boarded a plane for a 37-hour flight before she met up with her sister in Moshi, Tanzania. Their group consisted of 11 hikers, three guides, two cooks (who also served the meals) and 33 porters. The porters, like the Sherpas on Mt. Everest, hike ahead of the group carrying the paying hikers' gear and arriving in time to set up sleeping tents, the kitchen tent and portable toilets.
But while the hikers only had to carry a day-pack, the trek was far from easy, she said. "The tent was full of our gear all the time, and you just were lying there in the middle of it all," she said.
As they climbed closer to the summit, it became colder and colder. After three hours of sleep and wearing six layers of clothing, Gerst climbed out of her tent for "summit day." "All we could do was put one foot in front of the other" as their tour leaders kept chanting "pole, pole." Pronounced pol-lay, the term is Swahili and means "slowly."
She said the final ascent was almost surreal as the mountain was filled with a procession of headlamps going up the mountain. The stars, she said, "seemed three times larger than normal." And it was hard to tell where the headlights stopped and the stars began.
Eight and a half hours after they began, the group reached Stella Point; seven members continued to Uhuru Peak, 19,341 feet. And it was there that Gerst and Hayes celebrated, in part, by scattering some of Tom's ashes at the top.
Even though she lost three toenails from the force of her toes hitting the inside of her boots as she descended more than 10,000 feet, the 18-hour "summit day" was the biggest high of her life. While she is happy she accomplished this goal, she would not do it again. Her take-away from the trip was not only the pride that comes with achieving a big goal, but an appreciation for the comforts of life that we enjoy. Even down to having warm water to wash.
She has a renewed confidence in her ability to conquer what life throws at her. One of the younger members on her trekking team probably said it best when he told her that she "is my new definition of a bad-ass."
---
ULTIMATE KILIMANJARO® CITED ON LIVESTRONG.COM
October 21, 2013
How to Train for High Altitude Hiking
by Jody Bravermanl
At higher altitudes, the air is thinner, there is less available oxygen and it becomes more difficult to breathe. There are serious risks involved with high-altitude hiking, including altitude sickness, acute mountain syndrome and pulmonary edema, all of which can result in death. Before you go on a high-altitude hike, you need to train your body to work efficiently and effectively in environments with less oxygen.
Step 1
Begin training at least two months in advance. This is especially important if you plan to hike at altitudes of more than 13,000 feet.
Step 2
See a doctor for a medical checkup in the early stages of training to ensure that high-altitude hiking is a safe and recommended activity for your age and physical condition.
Step 3
Hike as often as possible. According to Kilimanjaro climbing specialist website Ultimate Kilimanjaro®, the best thing you can do to prepare for higher-altitude hikes is to hike as often as possible and at higher altitudes if available. Start gradually, increasing the distance and altitude of your hikes with each week of training so that your body and lungs can become accustomed to functioning at increasing levels of altitude.
Step 4
Participate in interval training. Interval training is a method of training the cardiovascular system by elevating the heart rate significantly and then allowing it to recover for a period before elevating it again. According to outdoor conditioning website Body Results, this prepares the cardiovascular system to deal with the stress of of limited oxygen levels at higher altitudes. Interval training could consist of running sprints, running hills or using the interval setting on a treadmill or exercise bike. Body Results recommends choosing one day a week for interval training and doing six repetitions of whatever exercise you have chosen. Each week, increase the intensity by running a faster sprint or a steeper hill. You also can train with a pack to add weight and simulate the weight that you might be carrying during the high-altitude hike.
Step 5
Work on developing a breathing rhythm and deep breathing. Your ability to control and conserve your breath and expand your breathing capacity will come in handy when the oxygen supply is reduced. Hiking information website HikingDude.com recommends developing a breathing/stepping rhythm that will prevent you from overexerting yourself at higher elevations. It also recommends practicing deep breathing on training hikes. Whenever you begin to feel breathless, concentrate on taking deep breaths and smaller steps until a more normal breathing pattern returns.
Warnings
Don't skip a workout if you can help it. Your safety depends on an excellent level of fitness.
Tips
Augment your breath training with yoga breathing techniques. The Alternate Nostril Breath in particular will teach you how to slow down your respiratory rate in a matter of seconds.
---
ULTIMATE KILIMANJARO® FEATURED ON COCA-COLA STORIES
September 6, 2013
Climbing with Coke: The Mt. Kilimanjaro "Coca-Cola Route"
by Laura Randall
To the Chagga people who live at the southern base of Mount Kilimanjaro, Marangu means "land of water." But for the hikers who follow the Marangu trail to reach the summit of Africa's tallest mountain, it is simply known as the Coca-Cola route.
The history of Kilimanjaro and Coca-Cola dates back more than a century when locals sold bottles of Coke and other drinks to hikers who took shelter in stationary sleeping huts along the trail on their way up the Tanzanian mountain.
"The Marangu Route, the oldest and traditionally the most popular trail on the mountain, was dubbed the Coca-Cola route because the local wardens and rangers stationed at the campsites along the way would supplement their income by selling bottles of Coke to thirsty trekkers," explains  Henry Stedman, author of Kilimanjaro: the Trekking Guide to Africa's Highest Mountain.
As other trails were carved up the mountain, the moniker stuck as Marangu gained a reputation as the smoothest and easiest road to the summit.
"Marangu has a more gradual slope and can be climbed in fewer days than other trails," says Brett Fischer, expedition coordinator at the Chicago-based Ultimate Kilimanjaro®. But it's more challenging than it actually appears on the surface because the shorter time frame makes it tougher for hikers to acclimate to the higher altitudes, Fischer notes.
An estimated 40 percent of all Kilimanjaro climbers take the Marangu route, but only about 30 percent actually reach the summit, he says.
Conquering New Heights
For one family from Cincinnati who climbed the 19,341-foot peak in July, the connection between Kilimanjaro and Coke ended up defining much of their long-planned quest to conquer the legendary mountain.
Stephen Calardo, 57, decided he wanted to scale Kilimanjaro more than a decade ago, when he saw the IMAX film, "Kilimanjaro: To the Roof of Africa," and was dazzled by the scenery and intrigued by the fact that it involved more walking than actual climbing.
"I thought, 'I could do that'," the Cincinnati attorney said. After years of trying to coordinate busy schedules and the seasonal temperament of the region, he and two of his four sons, Paul and Joe, finally settled on a date and started intense research and preparation for their trip.
The Coca-Cola route seemed the way to go. The six-day expedition fit their busy work and school schedules back home. Plus, "it seemed smoother and easier than some of the more jagged, technical routes," Calardo noted.
Coca-Cola came up frequently in articles and guidebooks about Kilimanjaro, Paul Calardo recalled. Even his map of the mountain noted that the Marangu was also known as theCoca-Cola route, he said.
"All the other routes are in Swahili. It was kind of funny," said Paul, a salesperson for a video and post-production company in Covington, Ky.
Stephen, Paul, and Joe, then a freshman in college, practiced hiking with all their gear on trails around Ohio and climbed Pikes Peak in Colorado to get used to the high altitudes they would be subject to in Africa. On that trip, Paul was hit hard with vomiting, dizziness and confusion, but that made him all the more determined to successfully scale Kilimanjaro.
Mental Motivation
Once in Africa, "I put myself in a different place on the trail," Paul said. "I told myself, 'you're not sick.' I focused on other things that made me happy: what it would be like if I purchased a house, what my girlfriend was doing. It was a mental toughness."
"At one point, I remember talking on the trail with the others and saying 'How good would a Coke and a pizza be right now?" he recalled with a laugh.
It worked. On July 20, the Calardo men made it to the top.
"It's billed as the easiest of the seven summits, but it's extremely challenging," Paul recalled. "People who had run marathons said it was the hardest thing they had ever done."
Nothing prepared them for the unique beauty of the Tanzanian landscape and the spirit of its people.
They saw trees and rocks "straight out of Dr. Seuss," Stephen noted, and witnessed five climate zones, from tropical rainforest to subzero polar, in as many days. They were overcome by the kindness of the porters who carried their food and extra gear up the mountain and chanted "pole, pole" (po-lay, po-lay), which means go slowly in Swahili, to remind them there was no need to rush.
On the day they would reach the summit, the hikers had to rise in the pre-dawn hours in below-freezing temperatures, Paul recalled. The team of porters sang in Swahili to encourage them as they began their 16-hour ascent to the top.
"They were absolutely inspiring," he said. "I knew then that this was a life experience."
When they reached the Marangu gate at the end of their journey, Paul not only had conquered his altitude sickness to finish the hike, he had another one of his wishes granted.
"All we're drinking is (purified) stream water, we're eating porridge and potatoes and bread for every meal for six days. The second we came out of the gate, we saw the gift shop and immediately went in and bought a Coke," he said.
"And that was our celebratory toast. We cheered each other and I think the first words out of my mouth were this is the best drink I ever had." 
---
ULTIMATE KILIMANJARO® CITED IN ULTRARUNNING MAGAZINE
August 15, 2013
Jornet Sets Speed Record at Kilimanjaro
by Ultrarunning Magazine
Moshi, Tanzania, October 1.
Spanish ultra runner Kilian Jornet, 22, set a new speed record at Mount Kilimanjaro, running from base camp to Uhuru Peak and back in 7 hours, 14 minutes. The previous record was held by Tanzanian ultra runner and mountain guide Simon Mtuy in 8 hours, 27 minutes.
At 19,340 feet, Kilimanjaro is the tallest peak in Africa and a popular trekking destination. Most climbers take about seven days to summit.
Jornet started his run at 7:15 a.m. from Umbwe Gate, elevation 5249 feet, and reached the summit 5 hours, 23 minutes, 50 seconds later, breaking the ascent mark of 5:32 held previously by Bruno Brunod of Italy. Jornet spent about ten minutes on top and then descended the 13,960 vertical feet back to the finish at Mweka Gate in a startling 1:41. Mtuy helped organize the attempt and was graciously waiting at the finish. The round-trip is about 53 km (32.9 miles).
Jornet, from the town of Puigcerdà in the Pyrenees, is a two-time winner of the Ultra Trail du Mont Blanc, and finished third at Western States in June.
photo above: Kilian Jornet on the ascent portion of his record run (photo by Stephan Repke)
below: graphic of route and elevation profile, courtesy UltimateKilimanjaro.com
---
ULTIMATE KILIMANJARO® CITED ON HAYATI MAGAZINE
August/July Issue 2013
---
ULTIMATE KILIMANJARO® CITED ON BVI BEACON (BRITISH VIRGIN ISLANDS)
July 31, 2013
Guy-Paul Dubois adopted his dog Jager — a small "coconut retriever," as he says — six years ago from the BVI Humane Society. Since then he has looked for ways to help the organisation improve the lives of animals in the territory.
At the end of the month Mr. Dubois plans to do just that by raising money for the organisation by climbing Mount Kilimanjaro — Africa's highest point, and the tallest free-standing mountain in the world.
"I decided to go with the animal shelter, with the Humane Society, because basically the shape of it — the state of the building they're in," Mr. Dubois, who goes by the nickname "Guyp," said in an interview Monday.
Currently based in a small, run-down building in Johnsons Ghut, the Humane Society recently purchased an acre of land in Josiahs Bay and is now raising funds for the construction of a new animal shelter there. Mr. Dubois said he wants any money he raises climbing the Tanzanian mountain to go directly to the new building.
"I spoke to the board and we agreed that the money would go toward the actual building," he said. "I just wanted to know where it was going so it doesn't end up in the Twilight Zone or something."
Mr. Dubois, a systems and network engineer at VP Bank, is currently seeking corporate sponsors and private donors for the cause."I'm trying to raise $6,000, which is one dollar for every metre of Kilimanjaro," he said, sitting on the balcony of the Tortola Sports Club, where he trains several times a week for the climb. "That's my goal, anyway. And I'll try really hard to get there."
The trip
Mr. Dubois leaves for Tanzania on Aug. 18, and he plans to begin the climb three days later. Although it's known as the "walk-up" mountain to some, experts advise climbers not to underestimate the difficulty or risks involved with climbing Mount Kilimanjaro, mostly due to extreme altitudes and unpredictable weather. Only 45 percent of climbers who attempt the trek make it to the summit, according to the guide service organisation Ultimate Kilimanjaro®.
Mr. Dubois said he is nervous about certain aspects of the trip, particularly having the right equipment, but he's no stranger to taking on extreme challenges.
Everest Base Camp
Originally from Trois-Rivieres, Quebec, Mr. Dubois has lived in the Virgin Islands on and off for the past decade. His interest in climbing didn't start until fairly recently. "I started hiking in the Caribbean — volcanoes and a bit everywhere — before basically realising it was my thing," he said.
He stepped it up a notch in 2011 when he took on a bigger challenge: Mount Everest in the Himalayas. "It all started when a friend suggested it: 'Why not try something real,'" Mr. Dubois explained. "And I thought, sounds like a good idea."
He set off for Nepal not knowing anyone else on the scheduled trip, and ended up making friends from all over the world. "I've actually convinced some of the same people to hike Kilimanjaro with me, so I'll know about half the group," Mr. Dubois said.
He didn't intend to reach the summit of Everest — which at 29,029 feet is the world's highest mountain — but he did reach a base camp at about 16,900 feet above sea level. The altitude was at times uncomfortable — causing headaches, light-headedness and fatigue — but Mr. Dubois said it was manageable, "as long as you went slow."
Later this month he'll attempt to climb a little higher: The summit of Mount Kilimanjaro is 19,341 feet above sea level.
---
ULTIMATE KILIMANJARO® CITED IN BLEACHER REPORT
May 23, 2013
Ray Lewis to Climb Mt. Kilimanjaro for Charity
by Mike Chiari
Former Baltimore Ravens linebacker Ray Lewis must have an itch for being on top of the world.
He undoubtedly felt that way when he retired after winning Super Bowl XLVII  in February, but the future Hall of Famer will now literally attempt to reach one of the highest points on Earth when he climbs Mt. Kilimanjaro  for charity.
According to RayLewis.LockerDome.com, Lewis will climb the Tanzanian mountain in June as he attempts to raise money for clean water projects in East Africa.
Lewis tweeted about the endeavor and urged fans to get the word out and retweet his message. Anyone who helps will be entered into a contest to win a Ravens helmet autographed by the NFL legend.
According to UltimateKilimanjaro.com, Mt. Kilimanjaro is the tallest freestanding mountain in the world. It is an incredible 19,340 feet high, and over 35,000 people attempt to climb it every year. The site also reports that fewer than half of those who attempt to climb the mountain succeed in making it to the top.
While the statistics may not be in Lewis' favor, he is an elite athlete who was a huge part of the Ravens' Super Bowl victory this year. He has made a career out of defying the odds and going above and beyond everyone else, so it's hard to imagine Lewis failing to conquer Kilimanjaro.
The 2012-13 NFL playoffs are a perfect example of Lewis' toughness and determination. Lewis missed 10 regular-season games with a torn triceps, but he returned for the postseason and led the Ravens on a shocking run to the second Lombardi Trophy in team history.
If Lewis' playoff showing is any indication of how he'll fare on Mt. Kilimanjaro, the mountain likely doesn't stand a chance.
---
ULTIMATE KILIMANJARO® CLIENT FEATURED ON BTV ACCESS
July 10, 2013
BTV Access did a feature on our client, Dr. Karim Malek, as he prepared to climb Mount Kilimanjaro for Angel Flights, a nonprofit charitable organization of pilots who provide free air transportation for medical needs.
Dr. Malek successfully summited Kilimanjaro on July 21, 2013 via the 8 day Lemosho route.
---
ULTIMATE KILIMANJARO® REPORTS RECORD NUMBER OF PEOPLE CLIMBING KILIMANJARO
March 25, 2013
Number of People Climbing Mount Kilimanjaro at Record High
Ultimate Kilimanjaro®, the #1 Kilimanjaro guide service, has added more group climb dates to its 2013 expedition schedule due to growing demand.
Mount Kilimanjaro, located in Tanzania, is the tallest free standing mountain in the world and is the highest mountain in Africa.
"Our early season climbs filled up so quickly," said Expedition Coordinator Marie Veve. "We had to turn away customers because we just didn't have the space."
Ultimate Kilimanjaro® guides more than 1,000 climbers to Africa's highest peak annually, offering group climbs and private climbs year-round. Group climbs are limited to only 12 climbers.
"We've added more group climbs for the rest of 2013 to keep up with our bookings. Right now we have the highest number of scheduled expeditions than we've ever had. Inquiries about our 2014 climbs have been steady as well. It's going to be a busy year," said Veve.
The popularity of climbing Kilimanjaro is now at an all-time high. Based on Tanzania National Park statistics, in the past ten years the number of climbers on the mountain has nearly doubled - from 28,000 tourists in 2003 to 52,000 tourists in 2012. It's a far cry from the Kilimanjaro's early tourism days, when there were barely a thousand visitors back in 1965.
The increase in tourism to Mount Kilimanjaro can be attributed to a few main reasons. First, there has been tremendous growth in the travel industry, particularly adventure travel, as a whole. More and more people are seeking to spend their vacation time doing outdoor activities and are travelling outside of their own country.
Second, Mount Kilimanjaro has been the adventure of choice for various high profile events. In 2009 and 2010, BBC and MTV filmed and televised separate Kilimanjaro charity climbs by United Kingdom and American celebrities, resulting in tremendously successful fundraising and widespread interest in the mountain itself.
The thrill of the mountain does not seem to be letting up. Last year, there was an attempt to launch a hundred paragliders from the summit. And this year, there is a group planning on mountain biking down Kilimanjaro. The publicity of the events keeps the peak in the public's eye and will continue to draw tourists.
Lastly, it is well known that the days are numbered for the iconic glaciers on the mountain. Mount Kilimanjaro has three main ice fields. Scientists predict that the ice on the western slope will be gone by 2020 and the two glaciers near the summit will be gone by 2040.
"First-hand accounts from our guides indicate that the volume of ice is visibly shrinking every season. People want to climb Kilimanjaro and see the glaciers before it is too late," said Veve. Mount Kilimanjaro can be climbed in as little as five days, but seven or more days is highly recommended for proper acclimatization to the high altitude.
---
ULTIMATE KILIMANJARO® CITED IN JOURNAL OF TRAVEL MEDICINE
March 7, 2013
The Dangers of Trekking on Mount Kilimanjaro
by Paul Gordon John Welch and David Andrew Dyke Symmons
To the Editor-in-Chief:
Mount Kilimanjaro in northern Tanzania attracts 40,000 trekkers each year and is regarded as ''Everyman's Everest.'' Although most trekkers' determination to summit is high, their knowledge of the risks associated with climbing to high altitude is understudied. In 2007, Merritt and colleagues1 investigated the knowledge levels of trekkers in Cuzco, Peru, and found that 51% of trekkers rated their knowledge of acute mountain sickness (AMS) as low. Climbing Mount Kilimanjaro normally takes between 4 and 7 days. The longer the trek, the greater the opportunity to acclimatize and thereby reduce the risk of altitude-related illness.
On a recent university trip to Mount Kilimanjaro, our group of postgraduate nurses and doctors from across Australia were astonished at the high number of untreated, symptomatic high-altitude cerebral edema (HACE) cases observed. It is defined as the onset of ataxia, altered consciousness, or both in a person with AMS or high-altitude pulmonary edema (HAPE).2 HACE is considered the end stage of AMS.3 On our descent, we noticed 10 people who appeared to be suffering from HACE, with clear evidence of altered consciousness and ataxia. Many were only able to walk with the physical support of two porters. Trekking guides we spoke to note that in a normal day between base camp at Barafu (4,673 m) and Uhuru Peak (5,895 m), they see between 10 and 15 cases of trekkers with HACE symptoms being encouraged to climb higher to summit or being assisted down in the late afternoon.
Although some of the guides do carry oxygen, the trekking guides we spoke to were not trained in how and when to use this equipment. Indeed, when we stopped to offer assistance to one man, his guide did not want to offer him oxygen as he said it was ''dangerous.'' This guide had to be shown by our team how to use the oxygen bottle and mask. The trekker's symptoms were relieved upon using the bottled oxygen and he continued his descent down to Millennium Camp (3,810 m). Left at 5,000 m, with no additional oxygen, his ataxia and altered consciousness would have resulted in a very slow descent and possible death. Death from HACE results because of brain herniation.2 Another guide accompanying a trekker with HACE did have an oxygen cylinder, but had no tubing with which to administer oxygen. There are no reliable statistics on the number of HACE-related morbidities or mortalities on Mount Kilimanjaro per year, which are thought to be around 8 to 10 deaths per year.4
In her recent article in this journal, Pattenden and colleagues explored the number of commercial mountaineering expeditions carrying medication on some very popular climbs including Mount Kilimanjaro, Everest Base Camp, and Aconcagua.5 In the light of our experience, it would be beneficial to do a more detailed analysis on the preparedness of expedition groups to administer oxygen when required. Unlike the risks of handing out medication to trekkers by untrained expedition employees, the dangers of using oxygen in trekkers are low—but the benefits are huge and potentially life saving. In medical practice, ''uncontrolled'' oxygen therapy can be harmful for patients with end-stage chronic obstructive pulmonary disease (COPD). Patients with end-stage COPD would be unable to participate in treks at high altitude.
Among tour companies and trekkers there needs to be greater awareness of the dangers of HACE, AMS, and HAPE. Early identification of the symptoms followed up with the treatment could possibly reduce the number of deaths each year on Mount Kilimanjaro. There are currently no medical facilities on Mount Kilimanjaro to assist trekkers suffering from mountain sickness. We propose that consideration should be given to use some of the money raised by trekkers entering the National Park to set up a staffed medical help station at the Stella Point (150 m below Uhuru Peak) and part way down to Barafu Camp (4,673 m). These outposts could contain oxygen and a stretcher and would only need to be staffed by a trained individual for a few hours each day. Most trekkers summit in the early morning and descend by late morning back to Barafu or Millennium Camp.
References
1. Merritt AL, Camerlengo A, Meyer C, Mull JD. Mountain sickness knowledge among foreign travelers in Cuzco, Peru. Wilderness Environ Med 2007; 18:26–29.
2. Hackett PH, Roach RC. High-altitude illness. N Engl J Med 2001; 345:107–114.
3. Luks AM, McIntosh SE, Grissom CK, et al. Wilderness Medical Society consensus guidelines for the prevention and treatment of acute altitude illness. Wilderness Environ Med 2010; 21:146–155.
4. Ultimate Kilimanjaro. Altitude acclimatization. 2012. Available at: http://www.ultimatekilimanjaro.com/acclimatization.htm. (Accessed 2012 Dec 27) 5. Pattenden HA, Shah NM, Hillebrandt D, et al. Do British commercial mountaineering expeditions carry drugs to treat high altitude illnesses? J Travel Med 2012; 19:250–252.
---
ULTIMATE KILIMANJARO® CLIENT FEATURED IN COMMERSEN AND SYDOSTRAN (SWEDEN)
October 29, 2012
To Africa's Highest Peak
by Tinna Hiller Andreasson
(Translated from Swedish)
KARLSKRONA. Early morning October 14, Martina Östsjö reached the top of Kilimanjaro. In addition to meeting the challenge of climbing Africa's highest mountain, Martina has raised more than 17,000 crowns in donations for the Cancer Society.
Martina beams when she talks about her experience in Tanzania. On the way up the mountain, she trekked through various ecological zones of rainforest, alpine desert, tundra, steppe and glaciers.
"In the rainforest, I saw monkeys, large birds and many interesting plants. But what I was most intrigued by were the glaciers, which I have never seen before."
The hike up to the highest point in Africa took six days, while it only took two days down. In total, the group walked 90 kilometers. "It was much harder to down than up. The altitude changes in the short periods of time results in headaches," says Martina, who is already planning the next adventure.
Martina writes about her journey in www.martinakilimanjaro.blogg.se (blog is in Swedish).
Toughest Walk Down on Kilimanjaro
---
ULTIMATE KILIMANJARO® CITED IN HOUSTON CHRONICLE
October 23, 2012
Mountain Challenge Changed Women's Lives
by Flori Meeks

For Heights resident Becky Pope, the mountain represented the obstacles she has faced battling ovarian cancer. For Uptown resident Venita Ray, the mountain was a symbol of all she has overcome in her journey with HIV. After climbing Mount Kilimanjaro last year with a group of 40- and 50-something women facing their own physical and emotional challenges, Pope and Ray now know they can conquering all sorts of mountains in their lives.
"The experience has given me more confidence to fight things that feel impossible," said Pope, now experiencing her third occurrence of cancer. "I remember the mountain."
The women's September 2011 Mount Kilimanjaro trek was organized by Heights resident Shana Ross, owner of Shana Ross Fitness. "The idea was, you really can take control of your life and not let adversity get you down," said Ross, who is writing a book about the Kilimanjaro experience. Ross' personal training and coaching business target Baby Boomers and menopausal women.
Pope, a social worker who has worked in the criminal justice system for about 30 years, initially trained with Ross about seven years ago. Pope was diagnosed with Stage 3 ovarian cancer in 2008. After a period of remission, the cancer returned in 2010. Pope's partner, geoscientist Pam Hilmes, was diagnosed with rheumatoid arthritis that year.
Hilmes had read blogs about people climbing Mount Kilimanjaro in the African nation of Tanzania in honor of loved ones. She and Pope started talking about making the climb to promote ovarian cancer awareness. They decided to do it in a September, during Ovarian Cancer Awareness Month.
In early 2011, the women asked Ross to help train them. Ross' thoughts turned to some of her other clients facing life challenges. She started to envision a group mountain trek that would empower these women, along with others who heard about their journey. Pope and Hilmes loved the idea, and Ross started inviting the women she had in mind. All accepted.
The women included former corporate communications executive Pat Wente, who was diagnosed in 2007 with breast cancer and in 2010 with cognitive impairment and brain damage as a result of chemotherapy drugs. She also would be making the climb with a 90-plus degree curve in her spine from scoliosis.
Sherri Dawson, a flight attendant, had dealt with bitterness, fear and excessive weight gain. About two years ago, she started taking steps to reclaim her life and her health.
Jackie Doval, a human and animal chiropractor, struggled with obesity. She started working to turn her health around about 2½ years ago.
Deb Sanders came to the trek facing mandatory retirement from the FBI after 28 years. She said she looked to the climb as the beginning of a new chapter in life.
Ray, an attorney, had at age 15 became a single mother, a high school dropout on welfare and an alcoholic and drug addict. She became sober when her daughter was a young teenager. Ray finished high school and went on to complete college and law school at night. In 2003, she was diagnosed positive for HIV. Ray said she loved the idea of the physical challenge when Ross invited her to join the climb in March 2011. What was more daunting to her was the idea of going public with her HIV.
"For the bigger purpose I was willing to do it," Ray said. "I was honored to be asked."
Training for the women began in March 2011, and the group held a fund-raising campaign for the trek between May and August of that year. Several corporate sponsors stepped forward, along with individual donors.
The climb
By the time they started to make the trek in September 2011, a number of friends had joined in to offer their support. The climbers included Dr.  Terry Pustilnik, Pope's oncologist, and Mary Beth Reuter, Pope's partner and co-owner of Shana Ross Fitness.
"We ended up being a group of 17 women going up this mountain," Ross said. "There was never a cross word. There were no complaints. It was complete and total support."
That's not to say the trek wasn't grueling. The woman climbed into a strong crosswind. The temperatures were frigid, and their gear was heavy.
Mount Kilimanjaro, which rises 19,341 feet above sea level, is the highest mountain in Africa and considered the highest walkable mountain in the world. Temperatures at the base average around 70 degrees in September, but at the summit, the temperature ranges from 0 to -15 degrees at night. The surface of the trails can range from loose and dusty to muddy, wet or icy.
Climbing the mountain also poses risks. Ultimate Kilimanjaro®, a climbing service, estimates that approximately 1,000 people are evacuated from the mountain each year, and about 10 deaths are reported, mostly from altitude sickness.
The women had trained rigorously through one of Houston's hottest, driest summers in years, but they couldn't have known how their bodies would react to the mountain's altitude. In Ross' case, the result was brain swelling and signs of altitude sickness as she neared the summit. "It became a battle, how deep you can dig, how hard you can push," she said.
Pope describes a feeling of "fatigue on steroids" the night the women reached the summit. She remembers lighting the path with lanterns and the pebbly surface that often caused the women to slide backwards. "Some folks got hallucinations," Pope recalled. "One girl thought a giant black panther was stalking us."
Reaching the top wasn't exactly a Hollywood moment, but the women knew they had accomplished their goal.
The impact
For Pope, it's the camaraderie of the adventure she'll remember most. "It was an extreme bonding experience. I just felt surrounded by support and love."
Visiting Africa had been a lifelong dream for Ray. "I thought HIV was my death sentence," she said. "That it would take me to the tallest mountain in Africa was huge for me."
Ray was able to visit an orphanage in Tanzania, where she spent time with a 7-year-old, HIV-positive boy. "I came back a different person. When we were getting ready for the climb, I was still bogged down by shame and guilt. I came back standing tall. I came back with a sense of freedom."
Ross hopes the women who made the trek will never forget what they were able to accomplish. "When I first asked them to go, there was this overall moment of 'what?' They were all shocked. But all of them came back and said yes. That's what I want them to keep: 'I can do this. I'm not going to run from the unknown.'"
---
BEST SELLING AUTHOR WRITES ABOUT EXPERIENCE WITH ULTIMATE KILIMANJARO®
Tim Ward, best selling author of What the Buddha Never Taught, Savage Breast and Arousing the Goddess, successfully climbed Mount Kilimanjaro with Ultimate Kilimanjaro® in July 2010. His first hand account of his journey is now available in his new book entitled Zombies on Kilimanjaro
, a humorous and thoughtful literary travel narrative.
Book Description: A father and son climb Mount Kilimanjaro. On the journey to the roof of Africa they traverse the treacherous terrain of fatherhood, divorce, dark secrets and old grudges, and forge an authentic adult relationship. The high-altitude trek takes them through some of the weirdest landscapes on the planet, and the final all-night climb to the frozen summit tests their endurance. On the way to the top father and son explore how our stories about ourselves can imprison us in the past, and the importance of letting go. The mountain too has a story to tell, a story about Climate Change and the future of humankind - a future etched all too clearly on Kilimanjaro's retreating glaciers.
ORDER YOUR COPY TODAY!
12 QUESTIONS WITH TIM WARD, AUTHOR OF ZOMBIES ON KILIMANJARO
Interview conducted by Ultimate Kilimanjaro®
UK: What was the reason behind climbing Kilimanjaro? Where did the idea come from?
TW: I'm an avid trekker. Kilimanjaro was just a dream for me – until I got a short work assignment in Nairobi, Kenya, and realized Kilimanjaro was just across the Tanzania border. Invited my son Josh to fly out and join me when my work was finished. Luckily this was in early July – the dry season, a perfect time to climb.
UK: What kind of backpacking/hiking experience did you and your son have prior to the climb? How did you and your son train for the climb?
TW: I made it a point to take Josh out into the wilderness when he was young. Mostly we did wilderness river rafting, some sea kayaking in British Columbia, and one safari to South Africa. But we never attempted anything like Kilimanjaro. I stay in pretty good shape year round, running and kayaking. Josh – well, he was 20 years old and indestructible. For me the main task was to break in my new hiking boots in order to avoid blisters on the trail.
UK: You are well traveled, particularly in Asia. What were your impressions of Tanzania - the place and people?
TW: In Tanzania the 21st Century and the world-out-of-time brush shoulder to shoulder. You have nomads, subsistence farmers – and then ATMs and Internet cafes, glass and steel buildings in the modern towns of Moshi and Arusha. Wherever you are, you see the massive cone of Kilimanjaro jutting up into the sky, a million years old. You feel awe every time you look up at it. It reminds us just how tiny our little lives are, and yet in a way that feels wondrous. The people we met were unbelievably friendly. We really bonded with some of the crew on our trek. They treated us like guests and friends, rather than like clients. They took good care of us in a very natural way. A lot of the time we felt like younger brothers, with someone to watch over us in a very friendly, even indulgent way. We certainly could not have made the trek without them. Off the mountain, you can easily see that for many Tanzanians, life is basic and not easy. Any yet the people you pass by on the street seemed happier than those I meet in Washington where I live, or New York City where everyone seems in a rush and preoccupied with their troubles. It's that attitude towards life – Hakuna Matata. "No worries!"
UK: The story focuses on your relationship with your 20 year old son, Josh. When he was a teenager, you and he had a falling out. Were you hoping that the climb would mend old wounds and bring you two closer?
TW: Yes, it was an amazing bonding experience. I was hoping the climb might give us a chance to talk and grow closer. I underestimated both Kilimanjaro and my own son. What happened between us truly put our relationship on a new path, a new kind of relaxed friendship. It allowed us to both let go of a lot of baggage, and put us on an equal footing. Getting to the top together, that was one of the hardest things either of us had ever done. It kind of shook off the old crust, helped us break out of old patterns and see each other with fresh eyes. Now that Josh and I have shared that experience, it seems like a marker for our new relationship.
UK: Much of your conversation with Josh is around meme theory, how ideas spread and evolve. Why does this topic interest you? At the end of the trip, did your discussions give you any new understanding/insight of meme theory?
TW: Meme theory fascinates me. It's a simple idea that changed the way I look at everything to do with communications. But despite its simplicity, memes are really hard to explain clearly. Josh agreed to let me talk it though with him. While we walked, we kept coming back to this conversation, and I began to see the world through the lens of his 20-year-old mind – a mind shaped by computers and interconnectivity in a way that a "Baby Boomer" like myself struggles to grasp. Not to mention his background in theater, which grounds him in the physical, rather than theoretical world. As we talked, my own understanding of memes changed. I got more of an appreciation of the power of storytelling as a way to transmit information. Including the power of family stories that tell us who we are.
UK: You talked about being bullied and your relationship with your dad as a child. You reveal a lot about the circumstances of your failed marriage. Was writing the book a form of healing?
TW: Yes, though a better word might be "integration." By this I mean finding a way to give meaning to the terrible things that happen to us in life. In my case, because my father belittled me – made me feel stupid with the names he called me - I set out to prove how smart I was, and this made me develop my intelligence as a teenager. It gave me a kind of push to succeed and become independent. That for me is the power of storytelling: constructing a narrative that helps you not just to survive, but turn the crap that happens to you in life into fertilizer that allows you to grow. I vowed to always treat my own son with respect. Yet on the mountain he told me that from his perspective it was when we had conflict - when he felt I was being a real hard ass with him – that's what spurred him to his own independence.
UK: You give much praise to your (Ultimate Kilimanajro) guide Fred and the rest of the staff. How important was it to have experienced, competent and friendly staff with you on the mountain?
TW: No doubt about it, the quality of the guides and crew can make or break a trek up Kilimanjaro. Fred was amazing. He had so much knowledge and experience on Kilimanjaro, we felt safe literally putting our lives in his hands. The real treasure of the trip was our waiter, Sully. Gracious, funny, and kind, he not only brought us our food, he also expressed concern for our health and wellbeing at every stop along the way, and always with a genuine smile. He really cared, and we felt it. Josh grew especially close to Sully who kept urging him to drink water when he was suffering from AMS.
UK: What kind of weather did you experience on your trek?
TW: Sunny all the time. The air was so thin the weather was a bit like walking in space. Above 3500 M it was freezing cold after dark, and then hot like a stove during the day. We had to take special care of your skin and eyes with sunscreen and sunglasses. At night, the Milky Way blazed a bright trial across the sky, and the full moon shone almost as bright as the sun. We forget, living in cities, how alive the night sky can be.
UK: Both you and Josh experienced some altitude sickness. Can you talk about what symptoms you both had and how that affected the climb?
TW: Josh got whacked by severe headaches and had to take altitude sickness pills. From now on I will never climb high without them. I had insomnia most nights. On the final summit climb I got afflicted with a kind of mild delirium that made me high. Everything was just funny and wonderful. Looking at a video we shot at the top, I sounded like Pee Wee Herman on speed! I started singing at the summit like some demented version of The Sound of Music. That was the most dangerous part. I had no perception of my own vulnerability. That's when we had to rely on our guides to keep an eye on us and get us down safely.
UK: What did you find the most difficult about the climb? Did anything surprise you?
TW: There were some very somber moments. We rested at a spot where, Fred told us, a porter had died a few years earlier. He had fallen, broken a leg, and no one noticed. By morning he was dead. The reality is about ten tourists a year die climbing Kilimanjaro. Most from altitude sickness, and a few due to rockslides. Ten out of 40,000 is a tiny percentage. But when you hear the stories, it sobers you, makes you respect the mountain. Coming off the mountain, I was surprised to learn about the abuses many porters have suffered. The Kilimanjaro Porters Assistance Project – a non-profit company – works for porters' rights. Companies listed on their site have agreed to follow ethical treatment and payment of porters, to make sure everyone working on the mountain is paid a decent wage, and not overburdened. This is an issue every visitor to Kilimanjaro should take seriously..
UK:. When did you decide to write about your experience - before, during or after the trip?
TW: All three. Before the trip I wanted to write a book about the power of memes and how ideas spread. During the trip, I was enchanted with the sheer physicality of Kilimanjaro itself – the unique and often crazy plants and creatures that live there. We encountered monkeys and a wild pig, plus trees that looks straight out of Dr. Seuss and the Kilimanjaro flower which resembles the head of an elephant. And then this mind-blowing mass of molten lava, too big for the mind to grasp, covered with ice, thrusting up to the sky…I knew had to write about that. Then afterwards, the trip had so transformed my relationship with Josh that I realized there was also story to tell about how the mountain changed us. So I wrote all three in one.
UK: Do you have any advice for anyone who is thinking about climbing Kilimanjaro?
TW: Go. Do it. It's the trip of a lifetime. Forever after you will be able to look back and say," I touched the sky in Africa."
---
ULTIMATE KILIMANJARO® FEATURED IN DOCUMENTARY TANZANIA: A JOURNEY WITHIN
In Feburary 2009, Ultimate Kilimanjaro® participated in the making of Tanzania: A Journey Within. Ultimate Kilimanjaro® successfully guided the film's subjects, Venance Ndibalema and Kristen Kenny, along with the entire Dolger Films crew to the top of Kilimanjaro. The film has won many awards and was released in commercial theaters in 2014. Watch the trailer below.


---
ULTIMATE KILIMANJARO® CITED IN USA TODAY
July 31, 2011
How to Climb Kilimanjaro
by Andy Noorlander
Combining seven days of trekking, five different climatic zones, and a climb to 19,340 feet, reaching the summit of Kilimanjaro is not a journey for the faint of heart. Looming above Tanzania's savanna just 200 miles from the equator, its glistening glaciers mark the highest point in Africa. A successful climbing of this mysterious mountain will certainly provide fantastic high-altitude vistas, a chance to push your mental and physical limits, and an exciting adventure to recount for the rest of your life.
Step 1
Choose a tour operator. You may not hike the mountain without one, and all of these must follow approved routes. Since there are hundreds of authorized groups to choose from, take your time in selecting a quality tour operator with plenty of good reviews, smaller numbers of hikers and proven experience. If you only look at the price tag, you're likely to be disappointed in what you get. Expect to pay at the very least $1,500 per hiker including park entrance, fees, staff and porter wages, food and equipment.
Step 2
Select a route. Base your choice on both your desired experience and your own health and fitness. The easiest route is the Marangu, or "Coca-Cola" Route, with accomodation available all the way to the top. Tougher routes for the more adventurous include the Machame, Lemosho and Shira routes, while one of least-traveled routes is the Rongai route from the north. All take at least six days, although at least seven are recommended for acclimatization.
Step 3
Pick your dates. High season on Kilimanjaro lasts from January to March and September to October because of the warm, dry weather and clear views. Summer months are still climbable although unpredictable weather and heavy rain often makes for less than pleasant experiences on the mountain. Be sure to book with your tour operator far in advance to secure a spot on the mountain.
Step 4
Pack your gear. While tour operators generally provide most of what you'll need on the mountain, light trekking gear, solid hiking boots, and warm mountain clothing are a must. Don't underestimate the summit's biting temperatures. When packing for your trip, try to limit what you carry on the mountain to 40 lbs. at most. Porters usually haul up to 30 lbs. per hiker, allowing you to climb easily with a small day pack. If you are not an avid hiker, don't stress too much: anything you happen to miss or forget can be rented for cheap at the base.
Step 5
Prepare your body. Strained muscles, exhaustion and acute mountain sickness (AMS) are only a few of the physical risks you will face climbing Kilimanjaro. Greatly reduce the risk with some solid physical exercise before your trip. Cardiovascular workouts are most effective in gearing up for the trek. Also, be aware of the symptoms of AMS and pace yourself carefully along the trail. As your guide or porter may say, "pole pole," which means "slowly, slowly" in Swahili.
References: Ultimate Kilimanjaro®
---
ESQUIRE AUTHOR WRITES FEATURE ON HIS CLIMB WITH ULTIMATE KILIMANJARO®
April 7, 2011
The Climb
by Peter Martin

One man's five-day journey up the tallest mountain in Africa...
Without any climbing experience...
Or a passion for extreme sports...
Or a need to prove anything to himself. At least not at first.
16,500 Feet
My legs burn, but it's nothing compared with my lungs. It's 1:30 in the morning, and I'm on the final push to the top of Mount Kilimanjaro. For the past hour and a half, I've been plodding my way up the trail's 45 degree incline at a speed too slow for an osteoporotic grandma. Yet it's the fastest I can go. Breathing is an effort — the air up here has about half the oxygen it does at sea level. Every exhalation is a race to inhale again. I'm light-headed. With every step, my legs get more wobbly. Also, I'm stuck trying to keep pace with an ultramarathoner. For another four hours.
He's up there ahead of me on the way to Uhuru Peak, the top of the mountain. And he's probably not even winded. Rodney Cutler, a hair stylist (and Esquire's grooming writer) who gets up every day at 5:00 A.M. to bike fifty miles or jog fifteen. Who runs six miles before he does half marathons, because otherwise the races wouldn't be long enough. Who, right before he started this climb with me and seven others, ran from the coast of Kenya to Kilimanjaro's Marangu Gate: 159 miles. In six days. Because that sort of thing is fun for him. Right now, struggling to catch him, I'm not having fun at all.
The problem with climbing a mountain in the dark is that I can't see the top. I can't see much of anything, except for the little balls of light coming from the headlamps of other climbers, inching up the slope above and below me. It's disheartening. Every time I look up, I see headlamps moving in the distance. I don't know how far the mountain keeps going. Just that it keeps going.
Suddenly I can hear the guides, somewhere in the black above me. They're singing. They're clapping and dancing, shouting down to me and another climber as we struggle to reach them. It doesn't matter that they sing in Swahili, that the only word I understand is Tanzania. Hearing them sing means hearing more than just the sound of my breathing. It gives me something to focus on other than the illuminated back of the guide in front of me. Four of the other climbers, including Rodney, are up there, too, and pretty soon they're clapping and dancing right along. They yell down encouragement the way you'd cheer for a kid at his first soccer game, proud simply that he hasn't fallen down. But it's inspiring. So much so that when we get to them, suddenly everyone is hugging. I didn't start it, never would have, but in these circumstances, it feels right. I blame the altitude.
200 Feet
"Are you in shape for this?" This is the first question my boss asks me when we talk about the trip, sitting in a conference room twenty-one stories above Manhattan. And I think I am. Plus, of the seven summits — the tallest mountains on each of the seven continents — Kili (we mountaineers call it Kili) is one of the only ones that requires no technical climbing skill. Which is good, because that's exactly what I have.
Rodney has no climbing experience, either. He just likes to compete. Back in Australia, where he grew up, he played Australian-rules football for ten years. He made it to semipro, then, like any tough former athlete, turned to cutting hair. By the time he moved to the U. S., Rodney hated the idea of not training, so he started running marathons and 50k's, participating in Ironman events. When his friend Toby Tanser, a distance runner and the founder of Shoe4Africa, a charity that plans to build the first public children's hospital in Kenya, came up with the fundraising idea of running to Kili, Rodney signed on right away and began coordinating a group of nine to climb with him. I immediately said yes to his invitation, though I'm not sure why.
I don't like hiking. Not hiking for exercise, at least; that I'll save for my sixties. But trade a five-mile loop that puts you back at your car for a twenty-five-mile trek that ends at the highest point in Africa and suddenly I'm a little more interested. Kili offers an adventure — something to work toward, something to accomplish, something to casually drop in conversations when people ask what I've been up to. It seems extreme yet doable, and I want to see if I can make it. Plus, I'm curious what the point is, what'll happen when I reach the summit. Maybe it will change my perception of my scale in the world. Maybe I'll experience some kind of religious epiphany, turn into the kind of person who overuses the word majestic. If nothing else, I'll have an opportunity to see just how much a normal person can benefit from — and maybe relish — challenging himself the way Rodney does.
At 19,341 feet, Mount Kilimanjaro is the tallest freestanding mountain in the world. (Everest and others, which are up to ten thousand feet higher, are peaks in larger ranges.) It sits just inside the Tanzanian border, right next to Kenya near Africa's eastern shore, as dominant a fixture in the local economy as in the skyline.
By some estimates, twenty-five thousand people attempt to summit Kili every year. Climbing enthusiasts, charity groups, tennis legend Martina Navratilova, my aunt's new boyfriend: They all drop at least $4,000 to fly to a Third World country and live in tents for a week. They use Portland words like gorp and polypro and speak of Clif bars as if they actually tasted good. They pack prescription antidiarrhea medicine, knowing they'll most likely need it. They brave altitude sickness — a potentially fatal affliction that affects up to 75 percent of climbers and includes symptoms ranging anywhere from headache and nausea to fluid in the lungs. So it should come as no surprise that up to half don't make it to the top.
To ensure that I'm not part of that 50 percent — and to feel better about my chances of keeping up with a guy who runs a marathon in just under three hours — I resolve to overprepare. My trainer, a guy named Stu Carragher in Washington, D. C., sets me up with a six-day-a-week workout program. Plus, I get an altitude tent.
For five weeks, going to bed means climbing inside a six-foot Hypoxico tent that fits over my mattress. Each night, before I unzip the side entrance of heavy plastic and climb into bed, I turn on a keg-sized motor that pumps reduced-oxygen air into the tent for me to breathe, re-creating the atmosphere of nine thousand feet. Although it makes me feel like a patient in quarantine, the tent also causes my body to increase production of red blood cells, the cells responsible for carrying oxygen throughout the body. (Most researchers attribute Acute Mountain Sickness to the dilation of blood vessels in the brain, which can cause brain swelling. If your body processes oxygen better, those blood vessels won't have to dilate as much in search of extra oxygen, and you won't have a crushing headache — or worse.)
And there's the mask. Twice a week I hook a face mask up to the pump and crank it to twenty-one thousand feet — nearly two thousand feet higher than I'll ever get on Kilimanjaro. I start to get confident. Without altitude sickness — what one Kili climber described to me as feeling like "having the worst hangover you've ever experienced while someone kicks you in the face" — I figure what other people considered a challenge will be, for me, just a really long, really beautiful hike.
6,500 Feet
The first day of the climb begins with a bus ride — four hours of fields and villages, markets and hair salons (so many hair salons), expectant locals with a gift for expressing the bitterness they feel when the busload of mzungu with all that extra space won't stop to pick them up. The bus takes us to the Rongai route, one of the easier and less traveled of Kilimanjaro's six ascents. Our trip is planned at seven days — up Rongai and back down the paved Marangu route — but at Rodney's encouragement and out of our own desire to make it to the top, we'll trim it down to five.
As our porters weigh our bags (our duffels, which they carry, can weigh up to thirty-five pounds each; our day packs, which hold rain gear, snacks, and whatever else we want immediate access to — toilet paper, for instance — are closer to twenty), our guide, Godlisten Mkonyi, sends us up the first part of the climb, through a grove of narrow-trunked trees that soon turns into a densely canopied rain forest. The hiking is easy. And short. This is how it'll go for the first three days: Hike three to four hours before lunch (we gain about two thousand feet in elevation a day), play cards, have dinner, and go to sleep. The only real change is in the vegetation. The next morning the rain forest gives way to chest-high shrubs and grasses. Soon we'll see nothing but volcanic rock and snow. And — occasionally, when the conditions are right — Kenya.
Godlisten, as the name suggests, is a religious man. And a grateful one. For him and the other guides, in a country where a third of the population lives below the poverty line, leading a trip up Kili is a good job. The least experienced of the porters make only fifteen dollars a day; head guides make nearly ten times that. (Head guides also never get stuck carrying the [crap] cooler, a portable toilet set up at each camp that amounts to a toilet seat mounted on a beach cooler. It's better than the outhouses, but not by much. And only if you get there first.) Still, there's no stability. When business is good [during the high season], Godlisten can lead as many as three trips a month. Otherwise, it might be only one [during the low season]. He has two children, both of whom he hopes will grow up to climb Kilimanjaro. But only as paying customers.
12,500 Feet
By day three, some in our group are finally feeling the altitude. One has a headache and an upset stomach. Another has constant ringing in his ears. The other notable event to occur: I finally change clothes.
15,400 Feet
On the fourth day, the ground is nothing but dirt and jagged rock. The moisture from the clouds that engulf us keeps my beard constantly wet, like I forgot to wipe my face after drinking from a water fountain. We make it to Kibo Hut, one of the main gathering points for climbers before they take a shot at the summit. It's close, a form still distant but hulking over camp. Everyone is optimistic.
In an attempt to reach the peak at sunrise — and to have enough daylight to make it to the next night's camp — most climbers leave Kibo at midnight. Godlisten wants us to try to sleep as much as we can during the day, which wouldn't be that bad if it weren't for two things: 1) The altitude is starting to affect my sleep. Whenever I start to doze off, my body jerks and I gasp for air, each time convinced that I've forgotten to breathe. (I have. It's a common high-altitude phenomenon called Cheyne-Stokes Respiration.) And 2) The porters have multiplied. With so many groups converging at Kibo Hut, each of them with ten to fifty porters (our group of nine hikers has thirty-seven porters — at least that's what they told us when it came time to tip), it feels like we're in the middle of their village. From the amount of noise coming from the barn-sized tent next to us, they must be having an auction.
16,500 Feet
After catching up with Rodney on that first ledge, after all the hugging and singing, it takes another two and a half hours to reach Gilman's Point, a false summit only ninety minutes from Uhuru Peak. The last half mile leading up to it is tough. Further complicating the 45 degree incline of the first four hours are rocks. Big rocks. And it's miserable. Every time I see our guide lift his leg to scale a rock, I'm filled with dread, knowing that I'm about to have to convince my own legs to do the same thing. Rodney pulls ahead by at least fifteen minutes.
Fifty feet after we pass the sign announcing Gilman's, I turn around to check on Jessie, the climber I've partnered with on this leg. She's vomiting. In consolation, our guide can only rub her back, hold her hair like a good sorority sister, and promise that she'll feel better. And he's right. She feels great, actually. She says so, takes a drink, then hikes for another fifteen minutes — at which point she stops and throws up again.
She's not the only one suffering. My thoughts seem distant and a little scattered. Every once in a while, it occurs to me that I wouldn't mind falling over. Plus, I've never had this much gas. (Everyone does. Something about expanding gases in the body.) With so much deep, desperate breathing going on, it's all the more reason to be glad I'm at the front of the line.
We're getting close, hiking and farting and vomiting along at what feels like a normal pace but is probably not much more than a shuffle. With the fresh snow and utter blackness, looking around is like looking at the surface of the moon. I pull out an energy bar, only to find that it's frozen solid. Up here, it's even colder than it was an hour ago, around 25 degrees Fahrenheit. It's still snowing — little ice pellets stick to everything, coating my backpack and the sunglasses dangling from my neck. Our guide tells us that we got lucky — that this is much warmer than what it could be.
Knowing that doesn't make me any less cold. We stop so I can put on a layer, and chill sets in instantly. More than thirty seconds without hiking and the cold picks through your clothes from every angle. Next to us, notched into a corner in the rocks, is a man you'd think would also be adding a layer. Instead, he's doing something else. While his friend is bent beside him, hands on his knees and gasping for breath, the man says: "I checked in on Foursquare, but I can't get Facebook to load."
Whatever happens in the twenty minutes after that, I don't really remember. After the hike, people will mention the group of guides-in-training we passed and the precipice we inched along after barely squeezing between two boulders. I won't remember these things. I'll remember only the back of our guide's shoes. I don't look up, just plod forward. I let myself go into a kind of trance, hoping that my legs won't give out, and hoping that we'll just get there. That's all I can think of: I want to be there. I want to be done climbing Mount Kilimanjaro and jump right to the part when I can tell people that I climbed Mount Kilimanjaro.
And then I see the summit. The simple wooden sign that marks Uhuru Peak isn't much to look at — inscribed boards, uncentered and bolted across two poles, kind of like what you'd expect to see marking a low-end dude ranch in the middle of the Southwest. But right now, due to either relief and excitement or the fact that the sun is rising over my shoulder, I'm pretty sure it's glowing. We pose for a few pictures that, back at the hotel, I will find out did not turn out. (Tip: Never take a camera you don't fully understand on a trip you want to remember.) There's more hugging. But the most interesting thing I discover at the summit: I'm a crier.
I'd have been less surprised to get to the top and find a note telling me I was adopted. Crying just isn't part of my life; feelings, when they do somehow occur, are meant to be repressed. Not here, apparently. Every time I let myself think about it — about how hard we've worked, how stunning the view is, everywhere I look — my face snarls into something hideous with emotion. After four months of working toward climbing this mountain — constantly training, sleeping in that stupid tent — I don't care. I am proud of myself. And I'm pretty sure no one saw me.
19,341 Feet
"Now run." Maybe he's being dramatic, or maybe it's the language barrier, but our guide clearly wants us to get down. It's the fastest way for Jessie to feel better. But we don't run. That would be stupid, for one thing; it's slippery up here, thanks to the loose dirt and thin layer of snow that's collected on the rocks. Also, now that the sun is up, it's hard to look around without thinking in superlatives. A few thousand feet below us, a thick layer of clouds forms the largest horizon I've ever seen. Small pockets of mist settle in the crevices of the ground's craggy surface. In the pink haze of sunrise, what was all black on the way up is now a thousands-of-years-old glacier, a mile-and-a-half-wide crater, and — holy s--- — a really huge mountain.
The scale of what we just climbed becomes clearest when we get back to Gilman's Point. In the daylight, it's just plain scary. We pick our way back down the huge boulders until we get to the switchbacks. There the porters have figured out a way to make going down faster: skiing. Our guide shows us the technique, hopping from one foot to the other, with each step sliding five to ten feet in the eight inches of loose dirt covering the mountain. It's fun, sort of. Or it would be if my knees didn't hurt, if I didn't have an extra twenty pounds strapped to my back, and if it weren't down the face of the tallest mountain in Africa.
Back at camp, I have only enough time to eat a fried egg and a piece of toast. Then we're heading down. The whole way. Another twenty-one miles. We're supposed to stop and camp after six miles, finishing the next day, but everybody wants to get back to the hotel. They want real coffee, or a bed, or to trade 35 degree days for 85 degree ones. I just want to wake up to a hot shower, not a porter with a shallow plastic tub of warm water. The hike down is miserable. We're not talking at this point — not because of tension, but focus. We just want to get done. We will, eventually. In seven and a half more hours.
3,000 Feet
The day after the climb, every one of my joints requires individual coaxing to be moved. The soles of my feet are half blister. And I understand a little better why Rodney pushes himself the way he does. Had the climb never gotten as tough as it did, had it not occasionally seemed impossible, no way would it have been as rewarding. To really feel satisfied, I had to find something right at the edge of what I thought I could do. For Rodney, being content to run a 5k is kind of like a person who graduated college reading nothing but Harry Potter. He needs to be challenged. We all do. But every time he pushes his limits, those limits get just a little farther away. A 5k doesn't do it for him anymore; he has to run six marathons in a row. And then climb a mountain. "It's not so much about competition for me," Rodney says. "It's about challenging myself. It's trying to find that thing where it's really bloody hard, but it's not going to kill you."
I'll never see it that way. He's immediately on to training for his next effort whereas I want to revel in this one a little bit. I want my life to be highlighted by highlights, not made up primarily of them. For me, the most gratifying part of finishing Kilimanjaro — of doing anything this challenging, this extreme — is that I know, for sure, that I can do it, that I did do it, and that I never have to do it again.
---
Small steps brings Mount Kilimanjaro climb to fruition
Climbing Mount Kilimanjaro is the most dangerous thing Scott Higgins has ever done.
During the last seven hours on his ascent to the summit and with only the light of his headlamp, putting one foot in front of the other in the biting cold wind was as much of a mental challenge as it was physical. "At that point, it is mind over matter, you just keep moving," said Higgins, who climbed and trekked more than 50 miles in every type of terrain, from 90-degree temperatures in the jungle to below zero with high winds on the mountain's Uhuru Peak.
The 43-year-old Noblesville man went eight days without taking a shower and 10 days without talking to his wife, and he hiked more than 13 hours without sleep to reach his destination, Mount Kilimanjaro's peak. "I found it strangely hypnotic to climb in the darkness," said Higgins, who began his final ascent at midnight and reached the summit at sunrise. His reward was a majestic view from Africa's highest point and the world's highest free-standing mountain at 19,340 feet. "Even though I was exhausted, I knew that I would never see a sunrise like this again. The sun looked close enough to touch," he said.
Higgins stood on the snow- and ice-covered peak with the cold and wind in his face for a mere 15 minutes, due to the thin air. He witnessed climbers turning back and getting sick, and learned of two deaths from the altitude, cold and exhaustion. But he said, "I was never tempted to turn back. Given my investment of time and money, I could not accept falling short of the summit."
Higgins had no climbing experience before attempting Kilimanjaro. "However, I have never been a fan of taking baby steps," he said. "Once we made the decision to do it, the possibility of failing seemed too small to consider."
He started planning two years before the trip with friends, Travis Rassat, 36, Noblesville, and Mike Timmons, 38, Indianapolis. They joined a team consisting of eight climbers (including a father and daughter from Germany, a man from Australia, a teacher from Wisconsin and a former college professor from Virginia); and 32 support personnel of licensed guides, cooks and porters who carried gear, set up tents and cleaned up camps. Higgins booked their trip through Ultimate Kilimanjaro®, a private agency. The trip cost about $6,000: one-third for the guide service, one-third for airfare and the rest for gear, immunizations, passports and spending money.
Higgins and two friends sent a care package filled with cold weather gear and cash over the holidays after seeing the guides' and porters' worn and ill-fitting coats. "It's something we intend to do every year," he said. "The relatively small donation we send to Africa goes quite far over there."
The trek required a level of physical fitness, endurance and a realistic awareness of risks. Higgins lost 13 pounds over the 12 days in Africa due to the loss of appetite, which is a common side effect of altitude sickness. Before the trip, he spent many hours hiking with a 40-pound backpack, walking at an incline on the treadmill and running bleachers at a soccer stadium.
He was on Kilimanjaro for eight days, Aug. 2-10, and reached the summit the seventh day by taking the Lemosho Route, the mountain's newest and most scenic path. He's already talking about the next mountain-climbing trip to South America's Aconcagua. Aconcagua is the highest mountain in the Americas, at 22,841 feet. "It seems like a perfect choice."
Higgins hopes to climb the highest mountains on six of the seven continents, except for Asia's Mount Everest, which requires a more costly permit.
Higgins took about 400 photos and captured about 180 minutes of video. He had intended to journal a significant amount of time everyday but was too tired to capture more than a paragraph or two each night.
The mountain lies 205 miles south of the equator and stands on Tanzania's northern border with Kenya. Kilimanjaro is made up of three extinct volcanoes and supports six ecological zones, from dry fields and farms to steaming jungles, exotic heaths and moorlands to an alpine desert and a glaciated summit.
As a youngster, Higgins became fascinated with the mountain that was immortalized in Ernest Hemingway's almost-autobiographical short story "The Snows of Kilimanjaro," first published in 1936 in Esquire and in 1987 as part of Hemingway's short stories collection. "After reading that story, I knew that someday I would have to see Kilimanjaro for myself," said Higgins, a 1985 Elwood High School graduate.
Higgins also wanted to see Kilimanjaro's shrinking glaciers. "I really wanted to see them before they were gone," said the business executive and adjunct professor at Indiana Wesleyan University, where he earned his master of business administration.
When he started talking about the trip, his family's response was skepticism. Once they understood it was more than just talk, their next question was "why?"
The married father of two teenagers -- Anna, 18, and Natalie, 16 -- had no experience climbing. "But as the months went by, and he was purchasing his equipment, I realized he was serious," said Lori Higgins, 43, who met her husband when they were Ball State University students. They've been married 22 years. She didn't clearly understand the magnitude of the mountain until watching a cable TV program about Kilimanjaro. She worried for her husband's safety, but she recognized his need to climb the mountain. "In my mind, I knew he could do it. He's the strongest, most determined man I know. I couldn't be more proud of his accomplishment."
Once Scott Higgins made the decision to climb Kilimanjaro, he said, "The possibility of failing seemed too small to consider." He said, "When we are young, there is a belief that there will be time for everything in the future. As we age, the realization sets in that our days are numbered, and if an opportunity exists to experience something important, we had better jump on it."
---
ULTIMATE KILIMANJARO® CELEBRITY CLIENTS FEATURED IN HONG KONG TATLER
July 2010
In February (2010), the Project C:Change team embarked on its first expedition to Africa's highest peak, Mount Kilimanjaro, to raise awareness about climate change and funds for WWF and Oxfam. Our editior-at-large, Sean Lee-Davies, who led the team, recalls the epic journey.
---
ULTIMATE KILIMANJARO® CLIENT FEATURED IN NORTH JERSEY'S DAILY NEWSPAPER
April 28, 2010
Teacher training to scale Mt. Kilimanjaro to raise funds for cancer
For some people, summer vacation marks an escape from the hustle and bustle of the daily grind, but for Keith Perkins, it satisfies a much deeper craving. When his father passed away in 2007 from pancreatic cancer at age 72, Perkins became shocked after learning about the high mortality rate associated with this type of cancer. There is no reliable detection method available, resulting in diagnosis emerging in the later stages. Being armed with this knowledge, Perkins felt a need to contribute in hopes of generating awareness to the cause. Combine that with a dream of scaling Mt. Kilimanjaro and you have the makings of quite a compelling journey.
An English teacher by trade, Perkins, 40, adores the writings of Ernest Hemingway, who is noted for his fictional accounts of Mt. Kilimanjaro."I've had a mini-obsession with Mt. Kilimanjaro since my early 20s," said Perkins, who teaches at Wayne Hills High School. Besides the literary draw, Kilimanjaro, with its six ecological zones, ranging from steamy rainforests to alpine deserts, all reaching towards a glacial summit, also offers a geographical intrigue that Perkins continues to hold close to his heart.
But how you combine a fundraising effort with climbing one of the biggest mountains in the world was the million-dollar question. And after meticulous online research, Perkins had the answer - www.ultimatekilimanjaro.com and www.pancan.org." The website ultimatekilimanjaro.com is a company based in Chicago that helps you to plan your mountain excursion and pancan.org is the official fundraising website for pancreatic cancer. They're two separate entities," Perkins explained.
The hike up Mt. Kilimanjaro, located in Tanzania, Africa, will take place Aug. 1-8. This route is longer by one day, however Perkins feels it necessary to allow ample time for his body to adapt to the high elevation, as many have fell victim to the thin air near the summit. "I'm trying to be realistic about it," said Perkins. Pre-training is a huge part of the climb as Mt. Kilimanjaro, which measures 19,340 feet, is an enormous undertaking for even the most athletic person, as altitude sickness, fatigue, and other physical ailments can easily occur. Currently Perkins, who has participated in marathons in the past, is running and walking before conquering longer hikes while wearing an equated amount of weight on his back.
The itinerary is carefully planned out and led by local escorts known as sherpas, who understand the need of a controlled environment based on the fluctuating altitude. Luckily they also assume most of the baggage, leaving climbers to carry only a small amount of added weight. "They're available to help you and keep an eye out as you progress towards the higher altitudes," Perkins said. "You can be in the best shape of your life, but once you get higher up, anything can happen so I'm approaching it super serious."
Leaving no stone unturned, he even researched medications and discovered diamox, which is widely used by mountaineers who venture into high altitudes. And since Perkins' adventure will initially take him though a jungle atmosphere, malaria pills and an inoculation for yellow fever are also necessary. His journey begins with a 30-hour flight to Tanzania with two stops. Weather conditions as he and the other trekkers begin ascending Mt. Kilimanjaro will become progressively colder as the days go on, despite the close proximity to the equator. "I'll start out wearing short sleeves and before arriving near the summit I'll surely be wearing winter clothing," he said, smiling.
Those who've mustered through the climb to reach the summit have reflected on a magnificent site never to be forgotten. And despite a gallant venture, trekkers are only allowed to stay at the top for no longer than 10 minutes before the high altitude eventually takes its toll. After his mountain excursion, Perkins will be taking a five-day safari through the Serengeti National Park before returning home on Aug. 14. "This trip isn't just for me, it's also for my dad and the countless others who've battled pancreatic cancer," said Perkins. "But when it's your family, you're more passionate about it."
[Keith Perkins successfully reached Uhuru Point on August 7, 2010.]
---
ULTIMATE KILIMANJARO® GUIDES HONG KONG CELEBRITIES TO TOP OF KILIMANJARO
March 3, 2010
On February 18, 2010, the Project C:CHANGE expedition team successfully made it to the top of Mount Kilimanjaro. The six member team scaled Mount Kilimanjaro, Africa's highest peak, to raise HK $600,000 for charity and raise awareness about man-made climate change.
The climbers on the Project C:CHANGE expedition included Hong Kong celebrity models Rosemary Vandenbroucke, Jocelyn Luko, Anthony Sandstrom, as well as Janice Chia, Jack Brockway and expedition leader Sean Lee Davies.
---
LOVEALL FOUNDATION TEAM SUMMITS WITH ULTIMATE KILIMANJARO®
January 6, 2010
Loveall Foundation Kilimanjaro Challenge Website
The Loveall Foundation for Children is a non-profit organization established to benefit under privileged, abused or other children with special needs. The Loveall Foundation climbed Kilimanjaro in an effort to raise money for the Leukemia Society, to benefit children battling leukemia. In the video below, Jacques Loveall, founder of the Loveall Foundation for Children, speaks about his team's upcoming climb with Ultimate Kilimanjaro®. The team successfully summited on January 6, 2010.
---
ULTIMATE KILIMANJARO® REPORTS RESULTS OF MOUNT KILIMANJARO CLIMB SURVEY
June 4, 2009
Ultimate Kilimanjaro® conducts Mount Kilimanjaro climb survey
Ultimate Kilimanjaro®, a specialist tour operator offering private and group climbs on Mount Kilimanjaro, released the results of a year-long Kilimanjaro climb survey conducted among independent travelers, hikers and mountaineers.
Over 100 respondents participated in the survey, offering valuable insight into various aspects of climbing Kilimanjaro to prospective adventurers. 

Demographically, male climbers outnumbered female climbers by 2 to 1, and the ages ranged from under 18 to 70 years old. A third of climbers were between 31 and 40 years old and a third were between 41 and 50 years old.
July proved to be the most popular month for climbing Kilimanjaro among respondents, followed by August and October. These popular months are excellent times to climb due to low precipitation and good visibility.

In preparation for their climb, 35% of respondents hiked as their primary form of training, which is the best exercise. The median frequency of training was three times per week over a three month period. Kilimanjaro can be successfully climbed by any reasonably fit person.

The survey revealed that the route of choice was Machame for 45% of respondents. Machame, also known as the "Whiskey Route," is the most popular route on the mountain, with Marangu, the "Coca Cola Route," coming in at a close second. Climbers using these trails can expect to encounter high traffic on their journey to the summit. Only 14% and 11% of climbers used Lemosho and Rongai, respectively. Ultimate Kilimanjaro® uses the less frequented routes for its group climbs as ideal alternatives to avoid the crowds.

The biggest obstacle in successfully climbing Kilimanjaro is the extreme altitude. Kilimanjaro is 19,340 feet high. The low oxygen content commonly causes differing degrees of altitude sickness among climbers. The respondents'  susceptibility to altitude sickness was consistent with published figures - 82% of climbers experienced at least one symptom of mild altitude sickness.

On Mount Kilimanjaro, summit day includes a strenuous 4,000 foot climb to the peak, beginning at midnight, in subzero degree weather, followed by a 9,000 foot descent. 55% of respondents identified summit day, which consists of 10 to 14 hours of trekking, as very tough. Other cited difficulties included altitude acclimatization (34%), lack of sleep (17%) and foul weather (10%). On a scale of 1 to 10, the most common rating for the climb difficulty was a 7.

Respondents overwhelmingly noted that their trip on Kilimanjaro was a very positive experience. More than 50% of the climbers rated their experience as 10 out of 10, meaning that regardless of all other measured variables - how old they were, when they climbed, what route they chose, how many days they took, and whether or not they reached the summit, they had a great time.
---
ULTIMATE KILIMANJARO® CITED IN THE HERALD (UK)
March 12, 2009
How to plan on hitting heights
Gear
Most travel companies will provide all the camping, cooking and communal equipment. They will also provide a comprehensive list of what you should bring including waterproof jackets, hiking boots, trekking poles, gloves, a sleeping bag and a sun hat. See www.ultimatekilimanjaro.com for more.
Training
You should start training at least two months before your departure, although many people begin training up to a year before. Good general aerobic fitness can be achieved through a variety of sports but regular hiking is obviously the best way to build up leg muscles. If you don't live near hills, a step machine is a good alternative. However, for many the toughest physical element is coping with altitude which is something which cannot be prepared for.
Medical
All climbers should get a medical check with their own doctor prior to attempting the climb. It is recommended that you are vaccinated against hepatitis A and B, malaria, meningococcal (meningitis), rabies, typhoid and yellow fever.
---
ULTIMATE KILIMANJARO® QUOTED IN WASHINGTON POST
September 28, 2007
Beyond the Grand Canyon: Five More Active Adventures
Climbing Mount Kilimanjaro.
Ascending this 19,340-foot mountain doesn't involve ropes, snap links and other accouterments of the hard-core mountain climb. Essentially the Tanzanian ascent is a long, thin-aired walk -- it can easily take you a week or more -- requiring strong legs and loads of stamina. The best preparation for hiking mountains is to ... well, hike a mountain, according to the Web site UltimateKilimanjaro.com (www.ultimatekilimanjaro.com). Train in the hiking boots and day pack you plan to use on the trip. Long-distance walking can build stamina. And as with the Inca Trail, you must prepare for the thin air and sickness it could provoke.
---